Defend Your Facility's Air From COVID-19
Without Replacing Your HVAC System
Learn How Affordable, and Easy, Upgrading To Clean, Safe Air Can Be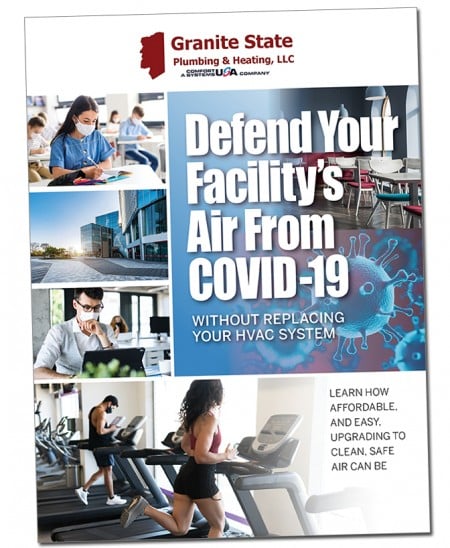 Why do we need your information? We will only use your email to send you information about the Granite State Plumbing & Heating's service. We will not sell or share your address. You can unsubscribe at any time.
What's inside the eBook
Download this free eBook of case studies to learn how New Hampshire businesses are protecting their facilities' air from COVID-19 and other pathogens, pollutants and irritants: all without having to replace their HVAC systems or install expensive, airflow-limiting, hard-to-get filters.
Granite State Plumbing and Heating has helped dozens of New Hampshire businesses and institutions to defend their customers and staff from COVID-19 by installing iWave air purifiers.
iWave air purifying systems are ionization devices that install in any air handling unit or rooftop unit. The air moves through the ions, which attach to passing pollutants, including COVID-19, killing viruses and enlarging the particles so they can be trapped by existing air filters.
In this eBook you'll learn how iWave ionization technology:
Works to kill mold bacteria & viruses
Reduces odors, allergens, smoke and dust particles
Is used in food prep facilities and restaurants
Keeps students and teachers safe in classrooms
Gets people back to work in office spaces
And more!
Providing a healthy solution

"The ongoing pandemic has made returning to economic normalcy di­fficult, but I'm happy to say that Granite State Plumbing & Heating is in a unique position to help.
With a full complement of safety measures, including the iWave —whose benefits will far outlast the current challenges we are facing — things can get back to normal."
John C. Hobden, P.E.
Vice President Granite State Plumbing & Heating
gsphinc.com

---
©GRANITE STATE PLUMBING & HEATING, LLC.
17 OIL MILL ROAD | WEARE, NH 03281
CALL US
Phone: (603) 529-3322 | 24/7 Service: (603) 529-3331