DOVE Project coordinator to retire after 23 years of helping abuse victims
Pam Dodge has aided victims as 'a leader in the state's domestic violence prevention network'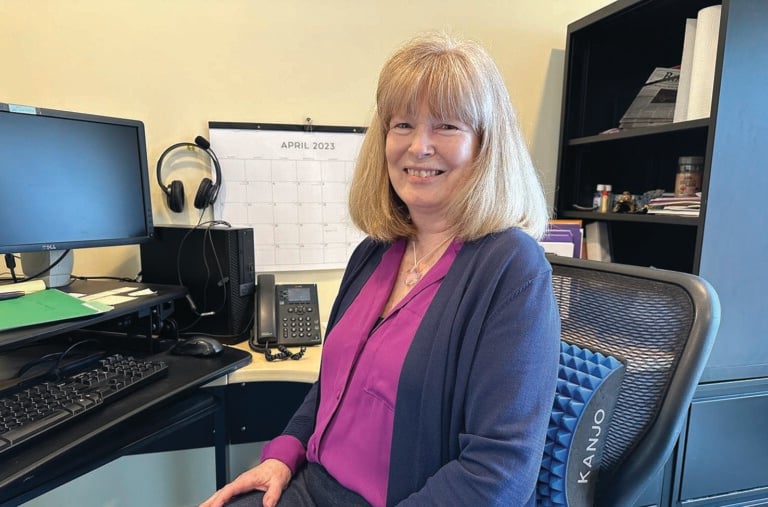 Pamela Dodge, a name that has been synonymous with the DOVE Project for more than two decades, has announced her upcoming retirement on June 30.
Dodge has been the Domestic Violence Emergency Project (DOVE) coordinator for 23 years. A lifelong Granite Stater, she graduated from the University of New Hampshire in 1977 with a degree in retail management and merchandising. After college, she worked as a store manager for a regional retailer, then worked for Philip Morris International as a sales representative, and later became a training manager for the Weathervane clothing store.
In 1997, Dodge decided on a career change. She felt the law was interesting, so she began working on her paralegal certificate from Franklin Pierce College. Concurrently, she was hired by former NHBA Legal Services Director Virginia "Ginny" Martin as an unpaid intern for the NHBA Pro Bono Referral Program.
"After probably four or five months, Ginny came to me and said, 'We have to start paying you. You can't keep doing this for free,'" Dodge said. "So that's how my career with Pro Bono started."
Dodge was officially hired as an assistant in January 1998, splitting her time between doing pro bono referrals and helping former DOVE Project Coordinator Mary Searles. Two years later, Searles moved on and Dodge was named DOVE coordinator.
"It seems like a really big leap to go from what I was doing [in retail], to doing legal services, but it wasn't," Dodge said. "A lot of what I did for my first 20 years was mentoring new store managers and hiring young women – nurturing and training them to get them started on a career. It was taking on responsibility, and it was selling. When I look back, it was a great preparation for what I do."
Retired NHBA Legal Services Director Ginny Martin said that when it comes to DOVE, Dodge has given it her all.
"A leader within the state's domestic violence prevention network, and a sought-after resource by New Hampshire attorneys, Pam has been relentless in pursuing and coordinating the legal assistance that survivors require, always rising to meet the latest challenge or need with empathy, skill, and creativity," Martin said.
'Committed and devoted'
The DOVE Project began as an initiative of the Pro Bono Program in a collaborative effort with the crisis centers and volunteer attorneys throughout the state, to provide victims of domestic violence with civil emergency legal services at their final protective order hearing. It has since grown to include assistance with stalking as well.
In 2021, DOVE became a part of 603 Legal Aid.
"This collaboration with crisis center advocates, volunteer lawyers, DOVE staff, and other community stakeholders – we couldn't survive without it," Dodge said. "The impact it has on people is like a ripple effect. We help so many people, but it's not just that one person. It's their kids, their parents, their friends. So, when you help that one person, you're really helping a community. It's kind of generational. As a survivor, if you can get yourself independent and away from the abuse, what it does for your children – that generational ripple is huge."
603 Legal Aid Deputy Director Emma Sisti said they are now hiring for calling Dodge's successor.
"Pam is the most committed and devoted person to a project that I have seen in a long time," Sisti said. "She lives and breathes the DOVE Project in a way that only a person who was at the inception of a project like this can do. Without her, this project would not be where it is now. It's a real testament to her dedication, loyalty and commitment that she's been with it for as long as she has, and we are going to miss her so much."
Since Dodge began coordinating the DOVE Project, it has grown over the years. Part of that growth can be attributed to her work partnering with UNH Franklin Pierce School of Law's Daniel Webster Scholars program to train their graduates to handle DOVE cases.
"One of the things I think is unique to what I've done with the DOVE Project is the relationship that I've nurtured with the law school throughout the years," Dodge said. "But that's really thanks to John Garvey. He approached me about working with the law school to train the Websters to do DOVE cases, and it has really grown over the years. As those years have gone by and graduates became DOVE attorneys, we have replaced the lawyers who were doing the programming with DWS attorneys who are doing the DOVE work. So the whole program now is Scholars teaching Scholars, teaching more Scholars to do the work."
Garvey, founding director of the Daniel Webster Scholars program, said it's hard to get Dodge to take credit for anything.
"She was the person who took [the collaboration} by the horns," Garvey said. "I asked her for what I thought was a favor, and she took it on as an inspired project. It's important as part of the program for students to understand that they have an obligation – and we hope, a built-in desire – to help others who can't afford it. Pam put in many, many hours organizing, creating the curriculum, and getting people to show up. She is marvelous and truly selfless. She does her work out of what is so clearly a commitment to help the people who need it."
Mary Krueger, NHLA staff attorney for the Domestic Violence Advocacy Project and member of the Task Force on Domestic Violence Cases in the NH Judicial System, said she has always valued the partnership between DOVE and the DV Advocacy Project.
"Pam has been steadfast in her commitment to ensuring that survivors of domestic violence, sexual assault and stalking can flee violence safely," Krueger said. "It's a legacy she will be able to carry with her. It's going to be a huge loss, but a well-deserved retirement."
This article is being shared by partners in the Granite State News Collaborative. For more information visit collaborativenh.org.