CSX's rail infrastructure upgrades include some New Hampshire projects
After acquisition of Pan Am Railways, company expects to spend over $100 million on needed improvements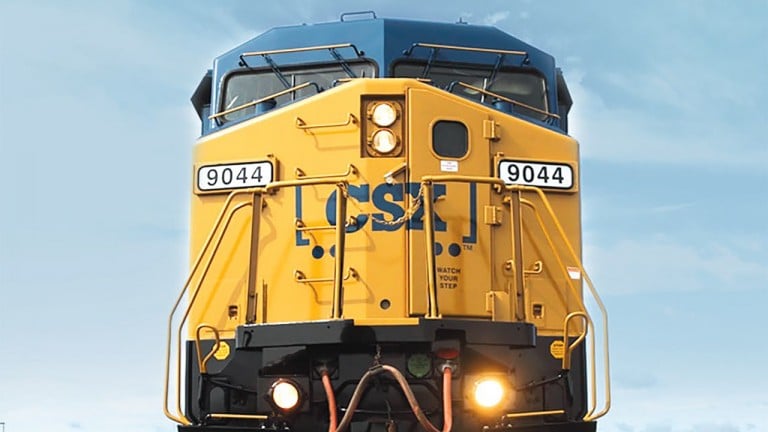 Not long after CSX Transportation purchased Pan Am Railways a year ago, Trains Magazine reported that Ed Sparks, CSX's chief engineer, described its acquisition as being in "a target-rich environment for improvement."
The Surface Transportation Board, the federal agency that oversees the operations of railroads, approved the acquisition on the understanding that CSX would make the investments required to upgrade the infrastructure, enhance the efficiency and ensure the safety of the Pan Am system.
CSX embarked on a two-year plan, and in June spokeswoman Sherliee Bowman announced, "Since the CSX acquisition of the former Pan Am Railways, significant progress has been made to improve the physical plant of the network, including modernizing infrastructure and improving efficiency to create a safer, more reliable operation." She added that since the transaction closed in June, 2022 CSX has invested $57 million in upgrading infrastructure and expects to invest another $50 million before this year is out.
The Pan Am network consists of 1,700 miles of track in New England, which includes the east-west route across Massachusetts — the Patriot Corridor — which links northern New England to the continental rail system. It carries freight in Massachusetts, New York, Connecticut, Maine and Vermont as well as New Hampshire.
With its acquisition of Pan Am, CSX took ownership of approximately 121 miles of track, along with an untold amount of real estate, in New Hampshire.
The Main Line-West runs 35 miles between Plaistow and Rollinsford, with passenger and freight service between Boston and Portland. The line connects to the NH Northcoast Corporation, a subsidiary of Boston Sand & Gravel Company, which runs trains carrying mostly aggregates and some propane to Boston and beyond over 42 miles of track between Ossipee and Dover.
The New Hampshire Main Line stretches over 40 miles from Nashua to Concord and carries three-quarters of all freight (by weight) reaching the state by rail, most of it coal to fire Merrimack Station, the lone remaining coal-fired power plant in New England, which burned 146,526 tons of coal in 2022.
Both the Main Line-West and NH Main Line connect to the Patriot Corridor, the east-west route across Massachusetts linking northern New England to the national rail system.
The 12-mile Hillsboro Branch, known as "the Hillsboro Running Track" runs between Nashua and Wilton and joins the state-owned line, operated by the Milford-Bennington Railroad that extends the service 18 miles to Bennington. On the Seacoast, there are 10 miles of track between Portsmouth and Newfields and another 3.5 miles of track between Portsmouth and Newington.
Pan Am's sporadic service
According to the NH Bureau of Rail and Transit, CSX has undertaken or scheduled improvements on the Main Line-West, Hillsboro Branch and Portsmouth Branch.
A Positive Train Control (PTC) system will be installed on the Main Line-West. The system applies computer technology to override manual control of trains to prevent accidents occurring from train-to-train collisions, derailments from excessive speeds, overriding work zones and moving through misplaced switches.
CSX has begun replacing rails, ties and ballast on the Hillsboro Branch. Since 1992, Peter Leishman has owned and operated the Milford-Bennington Railroad, which hauls stone and aggregates Granite State Concrete's quarry in Wilton to Milford. He weathered a trying relationship with Pan Am and said he welcomed the ownership of CSX.
Leishman said that while Pan Am disinvested in infrastructure and provided sporadic service, CSX has begun improving its track and providing scheduled freight service. Shippers on the Hillsboro branch include Granite State Concrete of Milford, Harcros Chemicals of Nashua, Hendrix Wire & Cable of Milford and Granite State Concrete of Milford.
Finally, CSX plans to upgrade the Portsmouth Branch with new rails, ties and ballast as well as rehabilitate several bridges on the line. Like the Hillsboro Branch, the Portsmouth Branch, which runs to Newington, is lined by several industries, among them Sea-3, which operates a propane storage and distribution facility that can handle up to 16 railcars a day.
Apart from investing in the Main Line-West, CSX has given priority to improving the two branch lines that serve existing shippers. In its filings with the Surface Transportation Board, CSX stressed that it would direct its investment to improving service to its existing customers while seeking to increase the volume of freight traffic carried by rail.