Brookstone introduces multi-room sync speakers
Chromecast technology allows music to be streamed through speakers directly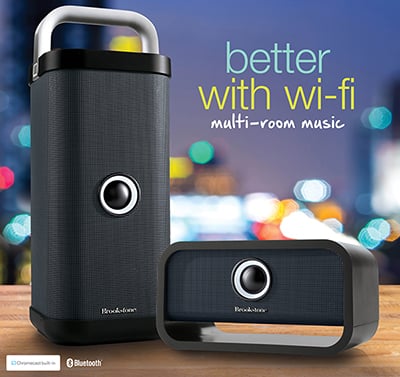 Merrimack-based product developer and specialty retailer Brookstone has announced new models of its Big Blue Studio and Big Blue Party wireless speakers with built-in Chromecast technology.
The two speakers can connect to any Wi-Fi network and stream music directly from apps such as Spotify, Pandora, Google Play Music and iHeart Radio. With multi-room sync, multiple speakers, including other brands, can be grouped together to play the same song throughout the house.
Although the music selection is still controlled through a Bluetooth-connected mobile device, the addition of Chromecast technology removes the issue of music being interrupted every time a text, email or phone call comes in.
"Whether you're really enjoying your music, dancing with friends, or spending some quality time with a loved one, the last thing you want to have happen is to have everything screech to a halt so you can take a call from your brother," said Vice President of Brookstone Products David Figler."With Wi-Fi music streaming, she'll be able to enjoy higher sound quality, without interruptions from phone calls, and centralized control over every Chromecast built-in speaker on the network."
To stream music, the user simply uses a Bluetooth connected mobile device to tap the "Cast" button built into Chromecast-enabled apps such as Spotify, Pandora, iHeart Radio, Youtube Radio, TuneIn Radio and NPR One. The free Google Home app, which is available for Android and iOS users, lets the user add, remove and group Chromecast built-in speakers on one's Wi-Fi network.
Chromecast also allows the owner of the Bluetooth-connected mobile device to take the device out of the immediate area without interruption.
"You can start streaming a song by casting from, say, Spotify at a party and then run out to the store to get more ice. Because our Big Blue speakers with Chromecast built-in are streaming directly from the Wi-Fi network, your leaving the house won't break the signal, so the party keeps going," said Brookstone Audio Category Merchant Chris Netterwald.
The Big Blue Party speakers also include the option to play music through a Bluetooth-paired connection with a mobile device for areas where there is no Wi-Fi network available such as at the beach or a soccer practice.
The Big Blue Studio indoor Wi-Fi/Bluetooth speaker retails for $129.99. The Big Blue Party indoor/outdoor speaker also streams via Wi-Fi or Bluetooth connections and retails for $249.99.