Bill will set a civics requirement for NH elementary and middle school students
Current rules mandate a half year of civics for high school students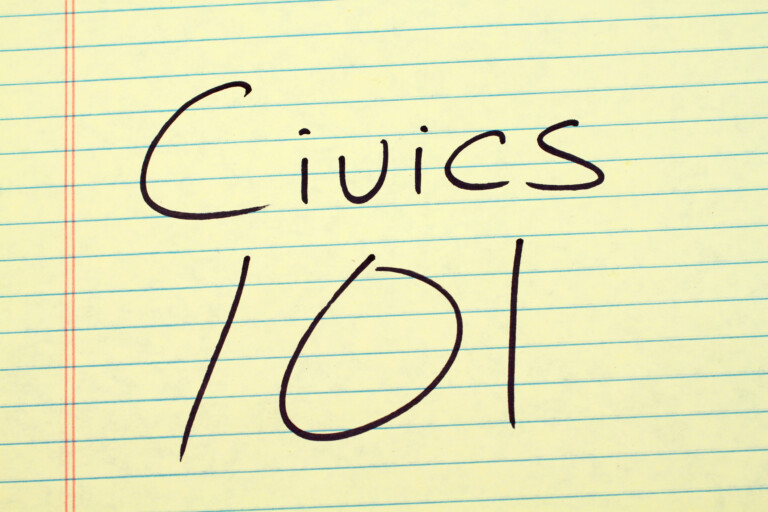 A bipartisan bill passed by the Legislature in May and currently awaiting Gov. Chris Sununu's signature, would change the way New Hampshire students learn about the nation's founding principles and how state and federal governments operate.
Current education requirements mandate a half year of civics for high school students. Senate Bill 216 would require elementary and middle school students in public and nonpublic schools to receive civics education as well. High school students will be required to pass a competency test and the civics examination used by the U.S. Citizen and Immigration Services.
The new requirements, which would go into effect once signed, "shall be implemented by the department of education, schools, and school districts by July 2024."
Within the bill a civics education program shall include:
Civic knowledge, the acquisition of knowledge of the history, heritage, civic life, and civic institutions of the United States of America and the state of New Hampshire.
The acquisition of skills, such as the ability to analyze text and determine the reliability and biases of sources.
An understanding of the ways in which civic institutions operate and how individuals may be involved in civic life.
An appreciation for free speech and civil discourse, using historical references, such as the federalist-antifederalist papers, the major debates at the Constitutional Convention of 1787, congressional and public debates leading to the Civil War, and Civil Rights debates of the 1950s and 1960s.
Anna Brown, director of research and analysis for Citizens Count, a nonprofit organization monitoring political issues in New Hampshire, said it was necessary to write civics education into state law to continue New Hampshire's strong tradition of participatory democracy.
"Overall, New Hampshire has a lot of really important markers showing we are ahead of other states in voter participation, but there are signs of decline," she said. Brown said teachers have reported that students don't understand the difference in local, state and federal governments, and don't have an understanding of basic American history.
"The New Hampshire Historical Society came up with a program about the Revolutionary War for elementary school kids, but the kids didn't know who we fought in that war," she said.
Brown said the No Child Left Behind Act of 2001 pushed for standardized testing and stronger education in science, technology, engineering and math, but as a result, social studies and civics were squeezed out of the curriculum.
"We are seeing that now, as these children are becoming adults; there's a lot of problems with our democracy," she said.
'The tricky part'
Calling the bill "an amazing, wonderful sign that legislators say we need to provide civic education," Brown said the trick will be in the implementation. The bill does not call for new funding for materials and professional development, but groups such as Citizens Count and NH Civics, which provides nonpartisan civics education programs for all age groups, will collaborate with educators to provide resources.
Claudette Knieriem, spokesperson for NH Civics, part of the coalition behind the push for civics education including the state Historical Society and the New Hampshire Bar, called the bill a recognition that more needs to be done to provide civics education. The organization currently provides opportunities for young people to learn how government works. One event, the annual "kid governor" election, has fifth graders create platforms and run for a kid version of higher office. In 2023, students voted in Haydin Simmons of Oyster River Middle School in Durham, who ran on a platform of poverty and homelessness concerns. Another project challenges high school students to research social issues and give presentations, and Civics 603 teaches children about the state's court system. The plan is for NH Civics to collaborate with educators as they begin to craft curricula, Knieriem said.
"The tricky part is going to be making sure there is a lot of knowledge about the new law and that teachers, curriculum developers and superintendents know where the resources are," Brown said.
Beyond a basic understanding of the three branches of government, civics education is necessary to continue to ensure a healthy democracy, Brown said.
"Democracy only works if we are all actively participating. If we just sit back and leave it to the politicians, that's not a democracy, that's an oligarchy or something else," she said.
Challenges ahead
Quixada Moore-Vissing, associate director of national engagement programs at Public Agenda and a researcher of democracy and education and an author of the 2020 New Hampshire Civic Health Index, said 80 percent of New Hampshire residents reported they received some education about civics while in elementary school. Those who received civics education were more likely to vote in the 2016 election than those who had not. Additionally, the report found, there was a relationship between civics education and higher education – those with college or graduate degrees were more likely to have received civics education.
"Civic health is an overall assessment of civic life in our communities, including how much people vote, attend public meetings, help out their neighbors and trust each other," she said.
One of the bigger challenges ahead will be to counter the spigot of information provided via social media.
Brown said social media is of particular concern because there is so much inaccurate information available online, and children need to hone their analytical skills in order to sift out the quality information from the junk.
"The first battle organizations like ours are fighting is penetrating the wall of craziness that is social media, reminding people that what you're seeing in those algorithms is not necessarily what's going on," she said.
The isolation induced by the Covid-19 pandemic impacted the nation's civic life by causing a greater reliance on social media, Knieriem said.
"Not being in the same room to debate and talk had a huge impact," she said. "It became very easy to become closed off and avoid things. People still want to Zoom into meetings rather than meet in person, from an education and civics piece, that has a continued effect."
The post-pandemic isolation of remote work continues to impact communities with people staying home with families and intermixing less at the office, Moore-Vissing said.
"When we combine these factors with filter bubbles online and other trends around polarization in the country, this could mean we are connecting even less across differences in the future," she said.
New Hampshire civic life is generally strong, Brown said, with its status as first in the nation presidential primary ensuring strong voter turnout and high interest in the political life of the state. However, there are other measures of civic health, including levels of volunteerism and participating in community life, that have seen a decline in recent years.
"Civics is partly running for office, but I feel so much of civics is local and participatory and not just the nagging debate back and forth," Brown said.
Balanced journalism could play a role reinforcing civic education, Moore-Vissing said, as it allows for people to continue to educate themselves after they complete school. "I think it would be useful for newspapers to periodically take on civics education as part of their articles – maybe doing a 'How school boards work' or 'How local government works,' so that people can learn more about the intricacy of our public institutions," she said.
"Knowing how to use these systems is a key foundation for people actually being engaged."
This article is being shared by partners in the Granite State News Collaborative. For more information visit collaborativenh.org.