A final loss in 2022
Remembering Jim Squires, NH's 'first citizen'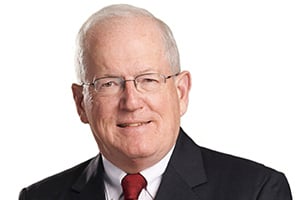 Happy new year — welcome to 2023 and its unknown adventures. Before leaving 2022, it is important to note one more significant loss suffered by New Hampshire. On Dec. 9, Dr. James W. Squires passed away. In many ways, Jim Squires was New Hampshire's "first citizen," having lived an exemplary life of service. He was remembered at a classic New Hampshire funeral at the Hollis Congregational Church on Dec. 17.
Jim Squires was born in New London in 1937, and by his own admission, had a charmed childhood in that idyllic small college town. His father, J. Duane Squires, was the head of the history department at Colby Junior College (now Colby-Sawyer), as well as the state historian. Jim excelled in school and at sports, and impressed his fellow townspeople. After graduation from high school, he won an appointment to the Naval Academy, where he studied for two years prior to transferring to Williams College to pursue pre-med.
After college, he was admitted to McGill Medical School in Montreal. According to one of the speakers at his funeral, a local resident agreed to lend Squires the funds to attend McGill, and, after he graduated with honors, presented an envelope in which a sheet was inscribed "loan paid in full." Jim Squires never forgot that generosity and its contribution to his success.
Back home, Jim dated the girl over the back fence, Jan Austin, daughter of a Colby Junior president. They married and had decades of partnership in a strong marriage that produced a dedicated and talented family.
After military service, Squires started his medical career in Boston and noted problems with how medical services were provided and funded. He and several physician colleagues started the first health maintenance organization in New Hampshire, Matthew Thornton Health Plan, which he served as president, while continuing an active surgical practice. One of his primary principles was to "see the patient as a person, not as a procedure."
After relocating to Hollis in 1971, he became involved in the community, serving as moderator of the town, school district and Congregational Church, each for decades.
His town service led to political involvement, and Squires ran for the New Hampshire Senate as a moderate Republican in 1996. He often was the sole GOP voice on certain positions.
In 2000, concerned about the fairness of the tax structure of the state, especially as it affected school funding, Squires ran for the Republican nomination for governor. His son Marc recounted various anecdotes from the campaign, including one day when they were heading for an event which featured a lot of signs for the opposition in an area where there were a number of gun supporters, and he asked, "What is the plan?" His father said, "We shall just go and tell them our positions." Mark was careful to plan the escape route!
Unsuccessful in that primary, as perhaps the last tax-reform candidate refusing to "take the pledge," Squires accepted the presidency of the new Endowment for Health, which was created to receive and administer the funds paid when nonprofit Blue Cross/Blue Shield was acquired by Anthem. From 2001 on, he helped shape the mission of the foundation and oversaw the distribution of $33 million to worthy organizations focused on the health of the state. Those who observe foundations consider his administration as the gold standard of foundation management and leadership.
He retired from the foundation and enjoyed retirement years in Hollis and at the family home on Lake Sunapee in New London. After his wife died, after 52 years of marriage, the family home was reconfigured and he lived with son Marc and his family for the remainder of his life.
Jim Squires received many honors recognizing his service, however, his legacy was his modest, firm example to all he met, whether patients, colleagues, friends or supporters. He was a great example of how to live and serve. I was lucky to know him, and we all were lucky he was here.
Brad Cook is a Manchester attorney, chair of the state Ballot Law Commission and co-chair of the Secretary of State's Voter Confidence Committee. The views expressed in this column are his own. He can be reached at bradfordcook01@gmail.com.