2013 Business Excellence Winner: Shane Carter, Ridgeview Construction
Ridgeview is committed to building custom homes that are as beautiful and affordable as they are minimally impactful on the environment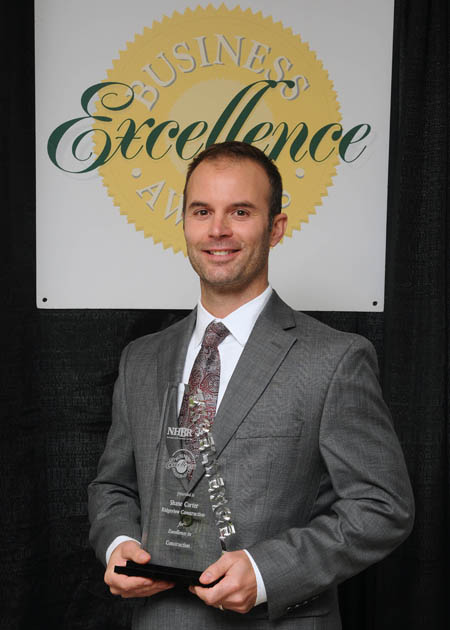 Shane Carter is not only the president of Ridgeview Construction in Deerfield. He's also an environmentalist whose commitment to minimizing his environmental footprint informs the way he runs his construction business.
Ridgeview is committed to building custom homes that are as beautiful and affordable as they are minimally impactful on the environment.
Shane has dual degrees in forestry and wildlife biology, which helps him to appreciate the beauty of the natural world that we all live in.
In fact, the Deerfield company just built its first-ever net-zero home in New Boston. The company's commitment to going green has not gone unnoticed.
Ridgeview has won several Cornerstone Awards from the Homebuilders and Remodelers Association of New Hampshire for its state-of-the-art homes, which are built using as many sustainable, local materials as possible.
As for his seven employees, Shane understands the importance of work-life balance.
In fact, Shane has been known to give employees a bonus if they take their full vacation without checking into work.
As his nominator wrote, "Shane looks for ways to build and maintain engaged, productive employees who serve our customers, our communities and our organization."
Shane is also dedicated to giving back to his community, both in his personal and professional lives. He and the Ridgeview team regularly work with Southeast New Hampshire Habitat for Humanity to help construct new Habitat homes. Several have even achieved EnergyStar certification.
On top of that, Shane also volunteers at several local nonprofits, including The Way Home in Manchester, Girls Inc. and Bikes for Books.
Nominated by: Matt Silva, Ridgeview Construction