2013 Business Excellence Winner: Keri Laman, Tidewater Catering Group
It has grown into one of the foremost catering companies in southern New Hampshire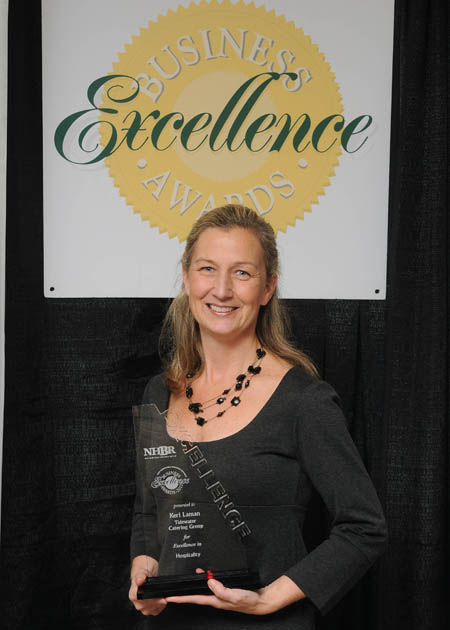 Keri Laman loves food, but when she was growing up she never wanted to be a chef.
Her passion was on the business side of the hospitality industry.
After she graduated from Boston University with a degree in hotel and restaurant management, Keri learned the ins and outs of the hospitality industry by working in restaurants and hotels in Boston for a decade.
Then, in 2000, she decided to branch out on her own to start Tidewater Hospitality Group, which found temporary and permanent employees for clients in the food service industry.
Growing on the success of the Hospitality Group, Keri opened Tidewater Catering in 2003 in the Manchester Millyard.
It has grown into one of the foremost catering companies in southern New Hampshire. It caters up to 35 business and private functions a week and is projected to hit $2 million in sales in 2013.
In fact, Tidewater has been named New Hampshire's best catering company in NHBR's readers' poll for five years running.
The success of her catering business led Keri to open Waterworks Cafe in Manchester this past spring. The cafe offers gourmet food at reasonable prices for professionals who work in the Millyard.
Each year, Keri donates an average of $20,000 to local charities, including Families in Transition and the Palace Theatre. She also caters about eight events for free or at charity rates each year.
Many prominent clients around southern New Hampshire wrote in support of Keri's nomination.
For Keri, they said, "no job is too big or small" and "no obstacles are insurmountable."
Keri is also happy to share her experience with others. She consults with other New Hampshire restaurants to help them improve their kitchens and menus, and has taught dining room management to students at Southern New Hampshire University.
Nominated by: Stephanie Daskal, m5 Marketing Communications