2013 Business Excellence Winner: Daniel R. Morrison, Optima Bank & Trust
By offering personalized service and local decision-making to small businesses and homeowners, Optima has become New Hampshire's fastest-growing bank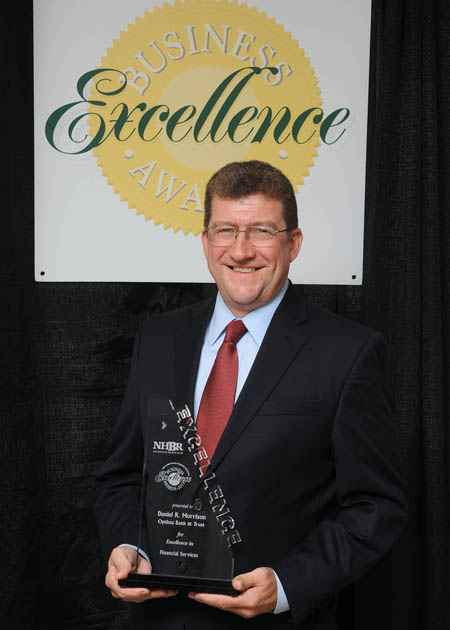 Most couples discuss their days over dinner. But Daniel Morrison and his wife, Pamela, had a bigger topic on their minds in 2006.
In conversations around the dining room table, the Morrisons decided that the New Hampshire seacoast needed a locally owned commercial bank that would provide highly personalized service to clients.
They were both longtime bankers and were worried that bank consolidation was having a negative impact on customer service.
So they began working to pull together a 1,300-page application, as well as $12 million in needed capital from 250 local shareholders.
They got Optima Bank & Trust up and running by January 2008, just months before the financial crisis took hold.
But they stuck with their business plan and managed to weather the financial storm.
By offering personalized service and local decision-making to small businesses and homeowners, Optima has become New Hampshire's fastest-growing bank.
Today, the bank's assets top $250 million. Its staff of eight people has grown to 45 employees.
It has full-service locations in Portsmouth, Stratham, Northampton and just opened another at the Pease Tradeport, and has loan offices in Dover and Bedford.
It offers the latest in online banking technologies and has invested millions in local businesses.
On top of growing Optima, Dan has also routinely volunteered his time to the Seacoast community. He was the board chairman of the Portsmouth chapter of the American Red Cross, and a volunteer for the United Way of the Greater Seacoast.
He's also a board member at the New Hampshire Bankers Association and is chairman of the advisory board for the UNH Center for Family Business & CEO Forum.
As Rachel, his nominator wrote, "His industriousness, imagination, innovation and achievements have made their mark on the state and its economy." Indeed they have.
Nominated by: Rachel Collins, Optima Bank & Trust