Younger voters heed the call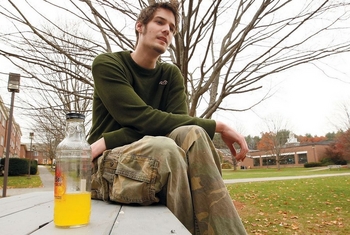 NASHUA – Lauren Hassett voted because she wanted her voice to be heard.
Chris Hatcher took the trouble to mail an absentee ballot to New Jersey because of strong political beliefs.
Brian Sobodacha voted because he felt guilty for missing the presidential primary. He also felt "peer pressure" to vote because everyone was talking about the importance of this election.
These and other students of Nashua's three colleges were part of one of the fastest-growing demographics in the 2008 presidential elections – young voters.
Across the country, many analysts point to the surge of young and first-time voters as being crucial in president-elect Barack Obama's victory.
In New Hampshire, Democratic Party Coordinated Campaign Director Colin Van Ostern said a flood of new voters turned the tide for Obama, such as 1,800 new voters in Durham, the home of the University of New Hampshire.
The same was true in Keene, the home of Keene State College, where the total vote was nearly three times the number that cast ballots in the last Shaheen-Sununu battle of 2002.
Students at Nashua's colleges acknowledge the election's historic significance and importance given the economy, Iraq war and other difficult issues facing the nation.
Energized as they were, it's unfair to stereotype young voters as automatic supporters of Obama. At Nashua's three colleges Wednesday, young voters were hardly unanimous.
Hatcher, 19, of Jersey City, N.J., said he comes from a strong Republican family. The Daniel Webster College student said he felt that Arizona Sen. John McCain would have been a stronger leader.
Hatcher also disagrees with Obama's stance on such issues as immigration and taxes.
"I just came out and voted for who I thought would be the best, according to my knowledge of the issues," Hatcher said.
Fellow DWC student Sobodacha, 21, of Manchester, voted not so much for Obama as against McCain. He said he wasn't thrilled about Obama, whom he described as "the lesser of two evils."
Conversely, first-time voter Rebecca Rogers, 19, of Nashua said she thought McCain was "too much like Bush."
The Nashua Community College student said there was another reason why she was happy Obama won.
"It was nice to see the country elect a black president," Rogers said.
Danile Becker, 19, of Merrimack sat beside Rogers enjoying lunch. Unlike his friend, Becker voted for McCain.
He said McCain has more experience. And as a prisoner of war McCain experienced suffering first-hand, "he may end the war sooner than Obama will," Becker said.
At Rivier College, Hassett, 18, of Oxford, Mass., said her "eyes watered up" when she watched Obama, his wife, Michelle, and their daughters appear at the victory rally in Chicago.
"I think it's really cool a black man won," she said.
Hassett said she was proud to cast her first vote in such an historic election.
"I kind of get angry when people say, 'I don't care and I'm not going to vote,'" she said.
At Nashua Community College, student Erin Desmarais, 19, of Milford cast her first-ever presidential ballot for McCain.
"I thought he would be a better leader for the country," Desmarais said. "As a POW, he really put his life on the line for the country."
Denise Harvey, 25, of Hillsborough, who works in the community college cafeteria, also backed McCain.
"I thought he would be a much better president than Obama," she said.
A strong Republican, Harvey voted for only one Democrat – her grandfather, Phil Harvey, an incumbent state rep. from Hillsborough.
At Daniel Webster College, student Nasi Salters, 18, of Newark, N.J., said that this election and Obama's victory weren't about race, no matter what many people say.
"He brings a new change to the country," Salters, an African-American, said of Obama.
Salters said one issue was foremost on his mind when he filled out his absentee ballot.
"Me personally, I'm against the war," he said.
At Rivier, Caitlin McKean said the election was too important not to vote given the economy and the "really tough time" the nation is going through.
McKean, 20, of Nashua, voted for Obama.
"I agree with a lot of his views," she said.
McKean said she has more confidence in Obama than in McCain. And as far as bringing about change and leading the country, "he can do it," she said of the Democrat.