X marks the team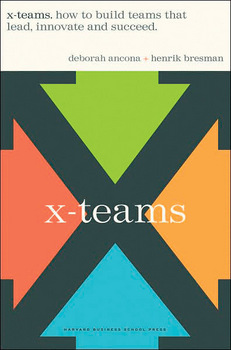 Gone are the days when top-level management sent down a directive from on high to the worker bees to carry out. More times than not, today's leadership creates the vision of a company and it's up to the lower-level echelons to translate that vision into commercial products and services. Add to that a mission to accurately identify what customers want against an ever-changing landscape of technology and global economies, and you've got yourself one big dilemma in trying to stay innovative.
Call in the X-team.
Deborah Ancona and Henrik Bresman, in their book, "X-Teams: How to Build Teams That Lead, Innovate and Succeed," define an X-team as one that is externally oriented, practices extreme execution and follows flexible phases of exploration, exploitation and exportation during its lifecycle.
Essentially, X-teams follow distributed leadership where solutions to business problems don't come from the higher-ups, but are created by the teams themselves, and in doing so, create a more innovative corporate culture.
"Being called to take on a new leadership role, they must become the eyes that read the changing environment, the people who bring commitment and energy to the task, the visionaries who help shape a new future, and the inventors of innovative solutions for business and world problems," explain Ancona and Bresman.
Traditional teams were often made up of those with similar backgrounds, focused on only the knowledge that was contained within the group. All the innovation came from this small group of individuals. Ancona and Bresman stress that, for a team to be successful, the net must be cast much wider.
Through a series of case studies, the authors break down the lifecycle of an X-team into phases. The initial exploration phase is a sort of honeymoon period during which team members get to know each other and begin to focus their task.
For the team at Motorola that developed the Razr phone, say the authors, it was understanding what kind of new cell phone would transform the company's image from an old, stodgy one into a company seen as slick and innovative.
During the exploration phase team members also are chosen for not only what they know, but who they know — an external focus.
This is a big difference between X-teams and traditional internally focused teams. Who has relationships to upper management? Who knows senior developers and engineers? Who knows knowledge leaders at the company's global offices? Who has kept ties with former employers or alumni associations at universities that might have something of value for the team?
In an X-team, knowledge is drawn from outside the group as much if not more than from within and, write Ancona and Henrik, can increase that knowledge exponentially.
As the X-team moves through understanding each other's work and personality strengths and weaknesses and social networks, it also explores the customer, technology and competitors, all in relation to the mission set before them.
The Razr team pulled together some new technology created from within the group as well as bits and pieces of ideas that were discarded by other teams. They followed extreme execution in their ability to take what they learned from outside the team and adapt the work the team was doing to move forward.
The next phase – exploitation — has an X-team really getting down to the business of building something. All that information and internal and external support culled during the exploration phase comes together in a tangible deliverable, even if that deliverable is a service, such as the new distressed stock desk created by an X-team within Merrill Lynch to trade stocks of companies coming out of bankruptcy.
This is a critical step for many teams. All too often, teams cannot move beyond the exploration phase to come up with something concrete. They instead become mired in a false perception that they do not have enough information to continue, which at some point dooms them to failure.
Once a team has a deliverable, it's time to move it out into the real world. As many teams find out, having a product in hand isn't the end of the team's job. Here, those ties to management and other lead stakeholders, groomed during the earlier phases, come into play. In short, buy-in from top management really had to be occurring all along. With constant communication, X-teams are more likely to stay on track, giving management the product they and, even more importantly, the customer wanted. Roles within the X-team may change, and someone else may take over as team leader to get management to ensure the team's deliverable will be implemented.
For the Merrill Lynch team, exportation also involved keeping those who would actually be manning the distressed stock desk just as enthused about the project as they were.
"X-teams" packs a lot of ideas and information into its 230 or so pages. Frankly, the book is not an easy read (think textbook), but the information it presents can be critically important to any business or organization where solutions must be created from vision concepts and innovation is needed.