Would-be model caught in near riot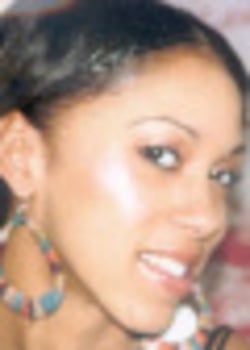 NASHUA – All Nashua native Latoya Olson wants is a little face time with Tyra. But a near riot in New York on Sunday put that dream in danger and left the 24-year-old battered, bruised and terrified in the process.
The 2004 Nashua High School North graduate drove to Manhattan on Friday with her mom, Kathy Olson, and a friend to try out for "America's Next Top Model." The show, hosted and produced by supermodel Tyra Banks, pits would-be models against one another as they live together to compete for a modeling contract and thousands of dollars in prizes.
She arrived around 12:30 a.m. Saturday. Twenty minutes later, she joined a line in front of the Park Central New York hotel. She guessed she was about 350th in line.
About 17 hours later, after a cold and uncomfortable night sleeping on the pavement, all hell broke loose.
Police blamed the melee that ensued on pushing and shoving that began when the crowd swelled to thousands, which organizers hadn't planned on. The situation escalated when a smoking car broke down nearby and a rumor spread that it might be a bomb, police said. Three people were cited for resisting arrest and other infractions after they toppled a police barrier, police said.
Olson knew none of that when the crowd exploded in a panic. She didn't run either, but only because she couldn't because the crowd smashed her into the exterior wall of the hotel.
"I got smushed up against the wall. I was trampled," Olson said. "It was just hell. It was the worst thing I went through in my life. I didn't even hear what happened. I just got smushed. At the time, I had no idea what was happening. I just couldn't breathe."
Kathy Olson, Latoya's mother, was across the street when, she said, "all heck broke loose." She started panicking when she lost sight of her daughter.
"It was scary for me as a parent sitting there watching it," Kathy Olson said. It was "out of control, unorganized and very dangerous."
A clip of the scene outside the hotel has been posted on YouTube.com and can be found along with this story at nashuatelegraph.com.
Olson, who stands 5 feet, 5 inches tall and weighs about 98 pounds, suffered cuts on her hands and arms, numerous bruises and an injured back. She also had a panic attack, she said.
"People were screaming about guns and bombs and this and that," she said. "I've never experienced anything like that in my life. We were packed like sardines. You couldn't move."
Olson, a server at Boston Billiards in Nashua, has tried out for the show 19 times and has been modeling for five years.
She is particularly excited about this season because producers are looking for contestants smaller than 5 feet, 7 inches tall.
"I just want to show everybody that you don't have to be 5 foot 10 to be a model," Olson said. "You don't have to be 5 foot 10 to be fierce or to take a picture. I will get on that show. I'm a character."
Olson said she's done a little modeling work locally, including photo shoots for local companies and working at promotions. She's trying to fly to Dallas this weekend for the next audition, she said.
To add insult to injury, Olson's roughly 16 hours in line yielded her nothing but bruises since the casting call was canceled after the disturbance.
"It wasn't right," Kathy Olson said. "It wasn't fair. A lot of girls traveled a long way. It wasn't controlled. It's a lot of young girls' dreams."
Banks has said producers are attempting to see all of the hopefuls that were turned away following the uprising in New York on Sunday.