Worst ice storm in decade hits state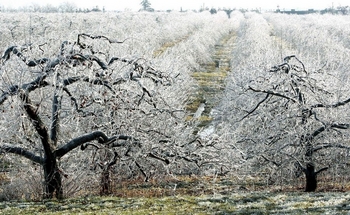 It started like any other rainy December night.
In a matter of hours, it became the worst ice storm in a decade.
The rare weather event was caused by freezing temperatures near the ground and warmer temperatures above, according to Eric Schwibs, a National Weather Service meteorologist in Gray, Maine.
The rain froze instantly when it came in contact with surfaces like trees, power lines and buildings. Ice-laden trees came crashing down under their own weight, bringing power lines with them and creating dangerous conditions.
Schwibs said it takes about a half an inch of ice accumulation to start downing power lines and tree branches. Somewhere between a half and two-thirds of an inch accumulated overnight Thursday, he said.
"The more accumulation you have on a power line or limb, the more dramatic it is," Schwibs said.
The meteorologist said an ice storm this severe only happens about once every 10 or 15 years. The last time an ice storm affected this many people in New England was January of 1998, but that storm was concentrated further north, he said.
Thursday's overnight storm initially left approximately one million people in New England without power, including an estimated 400,000 in New Hampshire at peak outage times. It could be several days before power is full restored to the state, utility officials said Friday.
With temperatures expected only to reach the mid-20s today, problems with falling power lines and tree limbs may persist, National Weather Service Meteorologist Jim Mansfield said Friday.
However, Sunday should be warmer, with temperatures above freezing and into the mid 30s, Mansfield said.
"Sunday should be a good melting day, and what's left, Monday should take care of it," he said.
Ashley Smith can be reached at 594-6446 or asmith@nashuatelegraph.com.