Workshops assist immigrants get US nationality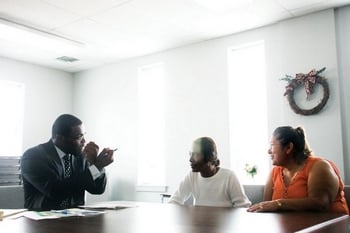 NASHUA – Dennis O'Rourke has lived in the United States for more than four decades and feels like he belongs here. Thanks to a New Hampshire Catholic Charities workshop Saturday, he'll soon be a citizen of the country where he has spent three-quarters of his life.
O'Rourke, a Hollis resident, was one of about half a dozen green-card holders who visited the NHCC headquarters on Lake Street in Nashua last weekend for inexpensive legal help filling out paperwork that will soon lead to him becoming a naturalized citizen of the United States.
"I've been here for 45 years," O'Rourke said. "I consider myself part of this. My wife said, 'Dennis, it's time to do it.' It's long overdue. I should have done it 30 years ago."
NHCC began offering the workshops on the last Saturday of the month five months ago, shortly after the application fees associated with naturalization increased $275 to $675.
Francis Agyare, a member of the NHCC's four-person Immigration Legal Office, spent four hours on Aug. 30 helping green-card holders fill out the applications and answering their questions.
The workshops cost $50, according to an NHCC release, so immigrants can use money normally spent on legal advice for their application fees.
Agyare has another reason for holding the workshops: his belief that something will be done to address the millions of illegal immigrants already in the country.
He said he thinks Congress will pass some sort of legalization policy and that the NHCC needs to be ready to deal with thousands of immigrants coming to him for help applying for citizenship or for their green cards.
"I believe we need to get some institutional knowledge for comprehensive reform, ing to come down the pike. We should prepare for it."
Although only about 20 people have attended the workshops so far, he hopes future sessions will be busier. At the same time, he said he hopes to work out a system to deal with large groups of immigrants.
"People need to know about this because I know there's a lot of people that need it," Agyare said. "We're trying to get the word out. I know there's a need for it."
"I think it's a great thing," O'Rourke said. "I didn't realize it would be this quick. In half an hour, I was done."
The process wasn't quite that speedy for everyone. The application is detailed, and more easily confusing for people without a firm grasp of English, according to some of the Aug. 30 participants.
Agyare said it can be a simple process if you have the information you need, including your children's addresses, the addresses of your employers and homes for the last five years, and the dates you've been out of the country.
Monica Londono has been a U.S. citizen for 18 years after emigrating from Ecuador. She was at the Aug. 30 workshop translating for her mother, Carmen Marshall. Both women live in Nashua.
Marshall said she didn't apply for naturalization before because she was afraid of failing the test because of her poor English. Immigrants are allowed to take the test in any language if they're older than 55 and have had their green card for at least 15 years, Londono said.
"To me, (the workshop) is a really good idea," Londono said. "I wish they had it 10 years ago. You feel more comfortable that you're sending a good application, that they won't reject it."
Lutz Hults, 42, of Manchester, has lived in New Hampshire since 2000. She ran a school in Colombia until war drove her out of the country. She teaches at Head Start in Manchester and was applying for citizenship Aug. 30 so her 9-year-old son will be a citizen, too.
"It's very important," she said. "It's my goal, to open many doors. My son will have many more opportunities."