Worker shortage worries construction trades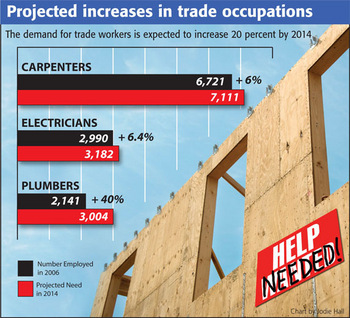 The demand for workers trained in the construction trades is expected to increase steadily over the next decade as the construction industry in New Hampshire strives to meet the needs of the state's growing population. And with baby boomers aging out of electrical, plumbing, HVAC and other construction jobs, questions arise over whether there will be enough competent workers to meet industry needs.
"If things remain as they are right now we will not be able to meet the demands," said Brian Hooper, vice president of mechanical contracting company, MSI Mechanical Systems Inc., in Salem and member of the board of directors of Associated Builders and Contractors.
According to New Hampshire Economic and Labor Market Information Bureau statistics, the demand for specialty trade workers will increase 20 percent by 2014 in order to meet the needs posed by the 1.4 million people expected to be living in the state by that time.
Demands for electricians, plumbers, carpenters and workers on heating, ventilation and air conditioning – or HVAC – systems are expected to be among the highest over the next decade, with growth estimated near or above the 20 percent mark for each.
While demands for skilled trade workers increase so does the age of those currently employed in the industry, with many reaching retirement age within the next decade.
More than 34 percent of New Hampshire's population will be 55 or older by 2015, according to the New Hampshire Office of Energy and Planning. And those at or above 65 will make up 21 percent of the population by that time.
"We're seeing a lot of these people nearing retirement," Hooper said. "And the younger kids – the ones who at one time would have gone into the trades – are now going on to four-year colleges and moving toward computers or other industries."
Hooper and other trade industry leaders view education as one solution to the potential shortage of trade workers.
"The supply of qualified tradesmen becomes a function of the education and training structure of the state," said Peter Bartlett, economist with the Economic and Labor Market Information Bureau.
Enrollment numbers in trade programs at the state's community colleges are showing signs of promise.
The Electrical Systems Installation and Maintenance Program at the New Hampshire Community Technical College in Laconia now has 55 students — more than twice the 2003 enrollment number, according to Max Brown, a business management professor at the school.
"Our numbers are very strong," Brown said. "We're producing a significant number of individuals entering the profession, and demand is marvelous."
The Laconia program is one of three electrical programs offered at the school, and it's the most popular among recent high school graduates hoping to enter the electrical field.
"Graduates of the program come out with a better understanding of the business and are positioned well in the industry," Brown said. "We have no problem placing these guys and girls in apprenticeship positions upon graduation."
Programs offering a similar background for students hoping to pursue careers in other construction trades — including building, HVAC and welding — are offered at the NHCTC Manchester campus.
Although pleased that programs like those offered through the state's community college system are growing in popularity, Hooper said he believes more needs to be done to expose students to the construction trades while they are still in high school.
"These kids need to know you can make a good living in the trades," Hooper said. "They need to know this is a viable option."
According to ELMIB numbers, the average hourly wage statewide for electricians, plumbers and carpenters is between $19 and $25 an hour – more for supervisory positions. And $35-an-hour rates for an experienced HVAC worker is not unheard of either.
"One can make a very good living in the construction industry," said Kendall Buck, executive vice president of the Home Builders and Remodelers Association of New Hampshire. "And these trades provide an opportunity to learn not only basic skills, they are becoming more technologically advanced. This is not your grandfather's industry anymore."
Hooper is currently working toward establishing partnerships among New Hampshire high schools, established trade workers and equipment vendors in an effort to introduce and prepare tomorrow's industry leaders.
Manchester-based ConEst Software Systems, maker of estimating software used by electricians, has donated its innovative software systems to numerous colleges and companies across the country in an effort to aid in the training and education of electricians and electrical estimators.
The company's donation of 60 licenses to NHCTC-Laconia has been instrumental in better preparing tomorrow's electricians by introducing today's electrical students to the role technology plays in the specialty trades according to Brown.
The company made a similar donation to the school's Manchester program.
"We believe it's a help to the students and that's the whole point," said Jan Thayer, ConEst vice president.
Hooper said he believes tomorrow's supply of well-trained, competent tradesmen will depend on growing partnerships between companies like ConEst, local educators and industry leaders.
"For many students, their classroom is out in the field," Hooper said. "Once they experience the hands-on aspect, use the tools and the technology, they think, 'Oh this is interesting, I can do this. I want to do this.'"