Work goes on in Nashua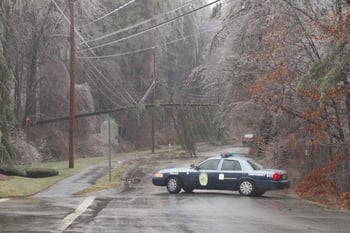 NASHUA — At dusk Friday, city officials were reporting that 33 streets remained closed because of fallen trees and power lines.
Department of Public Works crews were scheduled to be out salting and sanding back streets until 11 p.m., and Parks and Recreation workers would be out late clearing trees and broken branches.
"Parks and recreation crews have been working on the tree problem all day, and that's what they'll be doing tonight," said Dave Fredette, city treasurer and interim public works director.
Crews have been following PSNH workers, clearing trees after the power company removed fallen wires, Fredette said.
"They're concerned tonight about the wind," Fredette said.
Wind could cause more branches to fall, creating more problems with power outages and road closures. Forecasts call for a windy night, Fredette said.
Among the street closures were Deerhaven Drive and portions of Manchester Street.
City Hall was flooded with calls, including many from frustrated residents imploring the city to clear their street as soon as possible, Mayor Donnalee Lozeau said.
In the wake of an overwhelming situation, the mayor asked for residents to be patient.
"There's only so many people and so much we can do," Lozeau said.
The mayor said the city rented additional equipment to help with the cleanup.