Wood begins to make a dent in N.H. fuel picture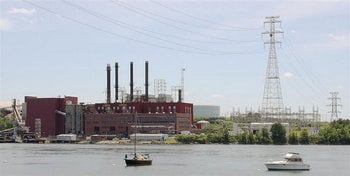 When it comes to alternative energy, New Hampshire's wind and solar potential is adequate at best. The natural resource we have plenty of is wood.All those trees covering New Hampshire can be burned for firewood, turned into pellets to burn for heat, burned to spin turbines and make electricity and someday perhaps turned into biofuels.The numbers are hard to pin down, but I've seen estimates that New Hampshire could meet 10 percent of its total energy needs (transportation, power and heat) by using the amount of new growth in the state's forests each year — although doing that without hurting wild areas would be tricky.For the moment, however, wood is such a minor player in the fuel mix that it's barely a rounding error compared to fossil fuels. But that's slowly changing. Wood-heated schoolsThe Merrimack Valley School District in Penacook, north of Concord, for four years has heated its high and middle schools with a wood-burning plant that was built specifically to heat the schools.They had previously been heated by electricity, which made financial sense when they were built in the 1960s but not anymore.It was the first school system entirely in the state to build a wood-burning plant – not counting the cross-state-border Hanover district – but the idea has been embraced since by other districts, including Winnisquam and Pembroke.Merrimack Valley burns about 32 tons of wood chips every seven days to heat 240,000 square feet of buildings, says Neil Barry, the district's plant manager. The cost is equivalent to about 85 cents a gallon in fuel oil and saves them from buying tens of thousands of gallons.The operation produces a few garbage cans' worth of ash each week. They spread the ash on athletic fields in place of lime, Barry said.The operation has been so successful that it has received an $83,685 grant from money collected by utility payments to the Regional Greenhouse Gas Initiative, and used it to help connect the administrative building to the system in December.Merrimack Valley school officials are proud of their power plant, but Barry says using less energy is at least as important as finding "green" ways to produce energy."The wood chips may save dollars, but it does not save BTUs, and you have to use less BTUs," he said, pointing to insulation, energy-recovery units and other technology used throughout the buildings. "We as a society need to go down that road."'Cash for cordwood clunkers'Biomass power has two drawbacks.First, wood is a low-density fuel compared with oil or coal, so it takes lots of chips to create enough energy. Lots of chips means lots of truck trips to a power plant, which is never popular.Second, wood burning has a history of local pollution, notably floating bits of carbon and other material ("particulate matter") so small they sneak past your mucus membrane when you inhale and get lodged in your lungs, doing bad things.The first issue is unavoidable, but the second one can be solved by technology. The best example of that was in Keene, where the state's only "wood stove changeout" program was offered.The program provided a $1,000 rebate voucher to homeowners who turn in older, non-EPA-certified wood stoves, and replace them with cleaner burner models. Call it "Cash for Cordwood Clunkers," if you will. Keene was chosen because its air patterns collect pollution, exacerbating the problem there.The goal was to replace 100 old wood stoves, but people have proved reluctant to give up the old dependable stove for some newfangled model, so officials had to extend the program from January to March 12 to give away the last 30 or so vouchers.New England is facing a similar issue with outdoor wood-fired boilers for homes, which are basically very large wood stoves that heat water, which is used to heat the house. Until recently, they weren't covered by pollution standards that apply to indoor wood stoves.In 2008, New Hampshire tightened its law, requiring that outdoor wood boilers meet EPA Phase 1 emission standards. Other states have gone further – Rhode Island is among those looking to enforce tighter, Phase 2 emission standards – and Vermont is considering a buyback program like the one in Keene, to replace old, polluting outdoor boilers.Biomass starThe region's biomass-power star is the 50-megawatt boiler at the Schiller Station power plant in Portsmouth, which was converted from burning coal to wood three years ago. The other two Schiller boilers still use coal to produce electricity.This Northern Wood Power Project, as it's called, hit a landmark recently: It passed the billion-kilowatt-hour mark in total power production, which Public Service of New Hampshire said is the equivalent of the "total electrical demand of all the homes and businesses in the city of Portsmouth for a 2-1/2-year period."On a quirky biomass note, PSNH recently received state permission to burn cocoa bean shells produced as waste from a new chocolate-production facility in Stratham as part of its Schiller fuel mix.
Power plus vegetablesFinally, let's consider the state's most interesting biomass plan: a proposed 30-megawatt power plant on the site of a former factory in Hopkinton that calls for building 20 acres of adjoining greenhouses. The power plant would pump CO2 and excess heat released by the plant into the greenhouses, boosting the growth of organic vegetables, cut flowers or whatever high-profit product is grown.The proposed owner says profits from the greenhouse would make the proposal financially feasible. This article originally appeared in the Nashua Telegraph.