Woman hurt as car strikes 2 others, then Town Hall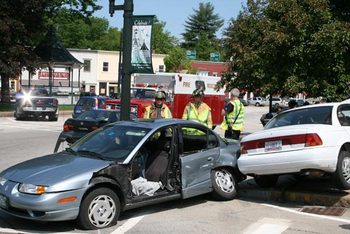 MILFORD – A Milford woman was injured in a freak three-car accident that tied up downtown traffic Sunday morning after a car crashed into Town Hall.
Police said an elderly woman crashed into her son's car, then hit another car driven by Jessica Stott, 24, of Milford, and finally crashed head-on into Town Hall. Stott was taken to the hospital by Milford Ambulance after she complained of neck, head and shoulder pain and appeared to be confused.
Police said the accident occurred at 10:16 a.m. at the Nashua Street entrance to Union Square, aka the Oval, next to Town Hall.
Roberta Coffey, 83, of Milford, was driving a white 1993 Saturn and following her son, Francis Coffey, 53, of Amherst, home from Massachusetts when he stopped his car at the Nashua Street stop sign approaching Union Square.
The elder Coffey then struck her son's vehicle from behind, then struck a blue Saturn, driven by Stott, and then crashed head-on into Town Hall. Francis Coffey's Volkswagen Jetta wound up in the middle of Union Square. Coffey and her son were apparently uninjured.