Woman complained about playground's poor condition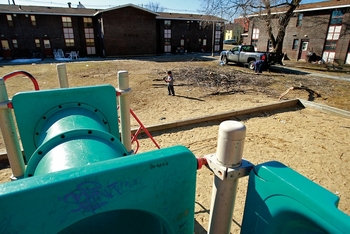 NASHUA – Spring snowmelt is usually cause for celebration, but at an inner-city playground, receding snow only revealed the garbage buried underneath.
All variety of trash – beer bottles, soiled diapers, plastic cigar cases used to carry marijuana – materialized in a playground at the Bronstein apartment complex on Central Street.
Maria DeLeon feels the playground outside her door is treated more like a dump than a place for children to play.
Some of the blame rests with tenants who have lived in the apartments over the years, said DeLeon, a single mother who has a son, 6, and a daughter, 5.
"Come on now. Have a little dignity," DeLeon said of the tenants. "There are kids who play here."
But many of the tenants who live there now aren't the ones responsible for trashing the playground, she said. Most parents want to help keep the courtyard playground nice.
"Lots of parents here are willing to help," she said.
DeLeon lived in the Bronstein apartments until she was 13. Now, she's 22 and has lived there the last 3 years.
Her daughter loves the playground, but DeLeon won't let her play in the sand.
Her niece got worms from playing there last summer, she said.
Cats use the sand as a litter box, and skunks and opossums can be seen at night swilling through the trash.
"They put a sign in there, 'No Littering,' but animals can't read," DeLeon said.
DeLeon has taken up the playground as a personal cause, rallying parents and children around her. She believes parents will be able to maintain the playground if there's a general cleanup and new equipment installed.
But so far her pleas for help have been met with only deaf ears, DeLeon said.
Nashua Housing Authority owns and manages the apartments. DeLeon said the authority seems to have no interest in improving the playground. An NHA staff member told her if the playground were fixed up, tenants would just destroy it again, DeLeon said.
"That's untrue," said Lynn Censabella, the NHA assistant executive director.
The apartment complex just underwent a two-phase renovation, in which kitchens and bathrooms were redone and the grounds improved, Censabella said.
Also, the housing authority sought a grant specifically to improve the playground, but the funding went to another organization, she said.
There are 48 apartments at the Bronstein complex and about 130 children, Censabella said.
The complex needs a new playground, but "unfortunately, the money just isn't there," she said.
DeLeon contacted city officials, including police officers and staff at the urban programs department. The people she talked to were sympathetic, but said there's little the city can do because NHA is responsible for the complex.
Liz Taveras's 2-year-old daughter had to be treated for hookworms she got last summer playing in the park.
"I was like 11 or 12 when they made this park," said Taveras, 29, DeLeon's sister.
At the very least, the sand needs to be replaced, she said.
"I was 11 years old when they first did it, and they have never changed it," said Maria's sister, Jezabell DeLeon, 28.
DeLeon has taken it on herself to speak up. She's complained to the city, talked to the police chief, and called the newspaper.
She's complained about the teenagers speeding down an alley behind the housing project and fears a child will get killed.
She's called out the drunks who sit on swings at night, breaking bottles.
She wants attention paid to those who sit in the area smoking pot, and others who have dumped hypodermic needles where children play.
A huge problem is the courtyard playground isn't lit, DeLeon said. Parents who live in apartments facing the courtyard turn on their porch lights at night to provide a little lighting.
DeLeon's son now is old enough to read graffiti, and she's worried about the swear words he sees – not to mention gang-like symbols painted onto the one small plastic playground set.
Word has spread throughout the neighborhood that DeLeon is speaking up. She's had children tell her they've heard she called City Hall and the newspaper. Other parents are supporting her.
All she wants is for children to be safe, she said.
The problems aren't necessarily caused by tenants, Censabella said. Others frequently will walk through the area, she said.
"I wish residents would come to us more often to tell us what's going on over there," Censabella said.
However, she understands that residents might be afraid to speak up.
"The last thing we need is a safety issue," Censabella said.