With power back on, Amherst lights tree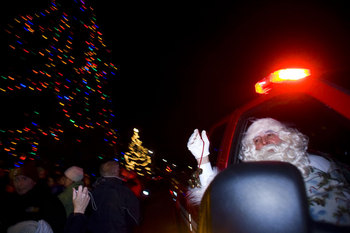 AMHERST – This year's Tree Lighting Festival was something of an early Christmas miracle, even though it's supposed to be an annual event.
Last week's ice storm and subsequent power outages threatened to wipe out the festival held in the center of town until Saturday afternoon when power was restored.
"It really is a miracle we were able to pull this off," said event coordinator Ann Bergin, who has been involved in the tree lighting since 1977.
Bergin said she was grateful for all the people who helped.
Although some events like open houses at the police and fire stations and puppet shows and Christmas skits at the First Baptist Church had to be canceled, there were still plenty of things to do, see and eat around the Village Green.
Walnut Hollow Farm and the First Baptist Church provided free horse and pony rides, Boy Scout Troop 22 roasted chestnuts, several groups performed music and Santa Claus chatted with children at The Congregational Church of Amherst.
The horse and pony rides from Walnut Hollow were a new offering this year, and farm owner Eliot Pratt said he was pleased with how it went and he will consider coming back next year. In all, about 30-40 children took part.
Walnut Hollow brought two horses and two ponies, Pratt said.
Ned and Gail Bermingham, of Amherst, said their two daughters rode the horses and the experience for them was "fantastic."
Several hundred people attended the actual tree lighting at 5 p.m.
Santa showed up for the lighting in a fire department pick-up truck. Upon his arrival, fans swarmed to the jolly, bearded man as he made his way to the podium to deliver his well wishes.
Attendance was lighter than normal but better than expected, Bergin said.
One of the biggest challenges in organizing this year's festival was keeping contact with the people who ran individual events. Several of them lost phone service due to the storm, Bergin said.
The police and fire departments had to cancel their activities Sunday because officers and firefighters had been running so hard during the storm, said Selectmen Reed Panasiti and George Infanti.
"We have to be very proud of our police, fire, emergency medical and emergency management teams," Panasiti said as he was setting up speakers on the main stage near the town's memory tree. "They did an outstanding, exemplary job."
Infanti said the selectmen's meeting scheduled for today has been rescheduled for Wednesday to allow the department heads a chance to recuperate.
Another person grateful for the firefighters' efforts was resident Scott Adams. He said that after his family lost power early Friday morning, two firefighters dropped by the house to check on Adams' elderly mother-in-law.
"I thought it was great that Amherst would do that," said Adams, 56, as he sampled roasted chestnuts for the first time.
Adams' family got power back Saturday night.
As for the chestnuts, Adams said he thought they were great.
"I'll have to try this at home," he said.