With parcel to protect, and to sell, Hollis puts on charm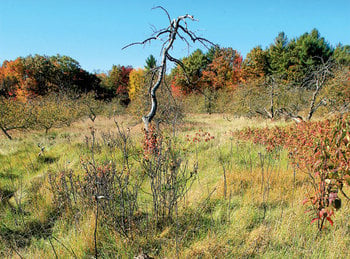 The town has launched a soft-sell campaign, hoping to interest local farmers in leasing town-owned agriculture land in Woodmont Orchards. After almost 90 years, the Lievens family, who had orchards here and in Lyndeborough and Londonderry, is closing the apple business, presumably a casualty of the economy.
A lease the Lievens had with the town to grow apples in the west orchard expires Dec. 31, making available 183 acres of rich soil the town wants to protect.
At the same time, officials say they want to preserve the scenic view, a picturesque expanse of gnarled apple trees, old farm buildings and fields.
Leasing the land to local farmers, officials agree, would protect the soil and the view.
"We want to keep it fertile, in production, and at the same time, it generates income," Town Administrator Troy Brown said. "If we allow it to go, it will be shortly overgrown with undesirable vegetation. It happens very quickly."
Brown said leasing would provide an additional source of revenue to pay the town's annual bond debt on the land off Route 122 not far from Plain Road and the site of the iconic Ice House that was recently dismantled and is now being rebuilt.
"We want to help support our local agricultural businesses, promote them," he said, adding that officials plan to research tax incentives, tax credits and other programs that could encourage local farmers to lease the town-owned farmland.
Officials also want to convince voters at the 2009 town meeting to approve the creation of an agricultural commission, a group that would promote local agriculture.
Select board Vice Chairman David Petry is spearheading the effort.
The vice chairman wasn't available by telephone Thursday, but wrote in an e-mail that the board would make a formal announcement of farm lease opportunities.
Interested farmers have until Dec. 31 to submit their proposals, Petry said.Brown said the leasing opportunities and an agricultural commission would be a boon to everyone in town, not just the farmers.
"It's happening all over the United States. Towns and cities are doing this with great success,"
Brown said of efforts to promote local agriculture by leasing land and offering incentives to keep farmers in business.
Peter Baker, a member of the Land Protection Study Committee, a group that researches and acquires open spaces for the town, said he sees the leasing promotion as a step toward creating an Agricultural Commission.
"If we're going to get agricultural land, let's prevent more of it from going away," Baker said.
On Tuesday morning, Baker said he was heartened by the board's support and its thoroughness.
In addition to advertising, the select board is also planning to use a land use attorney to draft the lease agreement.
"I think we're off to a decent start," Baker said. "All we have to do is execute."
But George Hamilton, the University of New Hampshire cooperative extension educator who covers Hillsborough County, said the town's success depends on creating "balance and harmony" between farmers and other residents.
"You have to be a good neighbor," Hamilton said, explaining that farmers will seek leases only if they know they will be able to operate without unreasonable restrictions.
For example, he said, a law restricting tractor use before 6 a.m. could prevent a farmer from spraying in the middle of the night if weather conditions warranted it.
"An agricultural commission is a bridge between the community and the agricultural community," Hamilton said.
"You have to consider the ramifications for agriculture. You could have a little ordinance that could put the shackles on farmers."
Hamilton said a commission could also help officials weigh the pros and cons of developing open spaces.
"Take Woodmont Orchards," he said. "You could have 5-acre lots, 35 units, the tax burden of 35 houses versus open space."