Wireless passes the test in North Country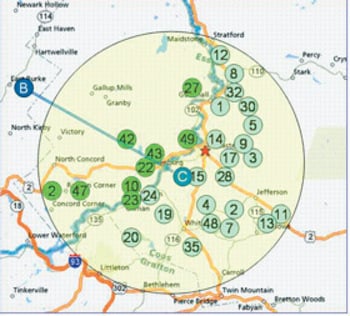 Long-awaited services are expected to be rolled out across the region over the next year now that testing of the Wireless LINC broadband project has been completed in western Coos County.
"We proved that it worked," said Veronica Francis, vice president of the Littleton Industrial Development Corp., one of the project's sponsors. LIDC and Northern Community Investment Corp. are patching together money from various federal and state sources and tax credits to test and build a six-county, two-state open access broadband network.
The goal is to bring service to the many pockets that are now limited to dial-up Internet access. Affordable broadband service is seen as an essential tool for economic and business development in the North Country, which has been slammed by the loss of hundreds of wood and paper industry jobs. Further strain has been put on the region with escalating gas, diesel and fuel oil prices.
Residential and municipal sites tested the signal from Lancaster's Mt. Orne cell tower using a variety of equipment and technologies. "We ran into lots of issues with signal interference during the testing," said project coordinator Tom Joyce of NCIC.
Besides the challenges of mountainous terrain and severe winter weather, "we have a lot of 'ground clutter,'" Joyce said, referring to the thick forest cover. "We also had problems with lightning."
The next hurdle for the project is approval of 50 local access points, so-called outreach beacons, many using 92-1/2-foot fiberglass mono poles. The permits are being reviewed by the state Historic Preservation Office because "the impact on views from historic sites must be evaluated," Francis said.
One outreach beacon has been mounted on the roof of Whitefield Power and Light, a wood-to-energy facility in the Whitefield Industrial Park. Transmitters are aimed at both businesses and residents in the area, and the site is a crossroads for other access points.
"Most access points will act in this manner," Joyce said.
Some of the sites awaiting permitting are key links in the network because they relay signals point to point, creating a backbone. Access points also will have available space for public safety, medical and educational users.
The equipment selected for use in homes and businesses is a six-inch receiver-transmitter installed using suction cups on window glass. The antenna can be rotated to pick up a local access point receiving signals from the tower. The box is then attached via cable to a router or directly into a computer.
"We're creating an open access system," Francis said. "Anyone can sign up with us to provide services." The system can be likened to competitive telephone service — Wireless LINC or Long-range Integrated Network Communications, is putting up the infrastructure and end-users select a provider. Service providers are being lined up now, Francis said, and the first subscribers should be on line by late fall.
The wireless backbone ties into other initiatives in the region aimed at upgrading the entire system. Wireless LINC communicates closely with FairPoint, which is closing the fiber optic ring between North Woodstock and Littleton and Conway and Gorham. Other gaps in the region will be closed using a variety of technologies. "We're trying to create redundancy," Joyce said. "Right now we have a Tier 1 system. Our goal is to make it Tier 3 or 4." The FCC's rating system goes to Tier 7.
The town of Stratford will soon see a direct benefit from the project. Wireless LINC has received a $578,150 USDA grant to create a community Internet center at Stratford Public School and extend the broadband network into that area, which currently has no service or television cable. The school now ties into Groveton schools via a T-1 line. The center will provide individual computer use and access to higher education opportunities and public safety training.
"The center will make the school more viable and sustainable," said principal Dan Shallow. "It will increase the capacity of our present Internet programs."
Shallow sees the K-12 school as the "center of the community" and is concerned about declining enrollment caused by job losses in the area. Over the past year, the school has lost 15 to 20 pupils, bringing numbers down to 138. Nine graduated in 2008. "We've seen the paper mills close, the wood industry is struggling and now tourism has been impacted by high gas prices," he said.
"We are limited in what we can offer," Shallow said, "because we need to provide certain basic classes." He said he feels that "more public utilization" will support the school on several fronts.
Facility improvements and a technology staff position are included in the grant, and Shallow said there may be some offset of utility costs. High school students may be able to access additional subjects via distance learning, Shallow said, adding that the project is still in the design phase.
Project manager Joyce is pleased with Wireless LINC's progress. "We'll never solve everything," he said, "but we've come a long way."