Wintry fun warms hearts at Merrimack carnival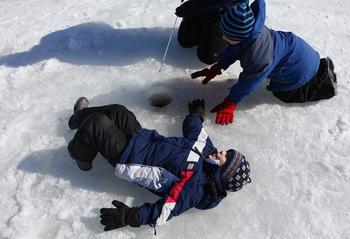 This is Mary's first New England winter. But the Mississippi native didn't look cold or at all uncomfortable as she cuddled on a blanket.
Having toddlers chuck tasty biscuits at her also didn't hurt.
"Be gentle!" Sherie Clark cautioned as her 2-year-old son, Brent, tossed a biscuit to a grateful Mary, a 3-year-old beagle brought to Merrimack from Mississippi in the dog transport program of the Humane Society for Greater Nashua.
Mary was part of the society's informational display on Saturday at Merrimack's 17th annual Winter Carnival at Wasserman Park. It was one of several booths inside a cabin, where chili, hot dogs and other refreshments were also being sold.
The beagle, who was spayed at a Southern shelter before coming north, will soon be ready for adoption, said Barbara Patterson, a humane society volunteer.
Shelters in the Deep South have a surplus of dogs, and the pooches brought north find families pretty quickly, fellow volunteer Cheryl Puerling explained.quite ready to shoulder the responsibility of being a pet owner.
The family doesn't have a pet at home, Sherie Clark said.
"I don't plan on it, either," she said.
For a New Hampshire winter, the weather outside – bright sunshine, highs in the upper 30s – was pleasant enough even for a Mississippi mutt to warm up to, as Patterson took Mary for a walk on the park grounds filled with families enjoying the popular Merrimack Parks and Recreation Department carnival.
Outdoor activities included a sledding hill for children and an ice sculpture demonstration.
On the frozen surface of Naticook Lake, families tried their luck at ice fishing. Activities on the lake included an ice-fishing tournament sponsored by the Merrimack Lions Club.
"We've never done it before," explained Lauren Luter, of Hollis.
Her husband, David, was helping Tucker, 6, and Jeff, 4, drop a fishing line through a hole in the ice. The kids seemed more concerned with lying on their bellies peering into the hole in an attempt to see a fish than with actually catching one.
No matter, Lauren Luter said. The main point was to enjoy a nice February day outside as a family, she said.
"In the winter, I feel like we never get outside," Luter said. "It's nice to have an organized event to bring us out – and it's the start of our vacation week."
Judging by the line, the most popular attraction for children was the free snowmobile rides sponsored by the Merrimack Sno-Buds Snowmobile Club.
"We go from 10 to 3 pretty steady," said George Lyon, club secretary and a 25-year member.
The sleds can carry two or three passengers, allowing a parent to ride with a small child through the half-mile loop, Lyon said.
"If they want to go slow, they go slow; if they want to go fast, we go fast," Lyon said.
Ben Flanders, 5, just wanted to go again.
Stepping off the sled, the boy was reluctant to surrender his safety helmet.
"Can I go again? I'm gonna go again!" he said as his parents, Brett and Beth Flanders, and little brother, Drew, 3, hovered nearby.
Dad couldn't coax the younger boy to try a sled ride.
Too bad – he probably would have been a satisfied customer, Lyon said.
"One kid left here crying," Lyon said. "He came back smiling."