Winning cook-off dish cool as a cucumber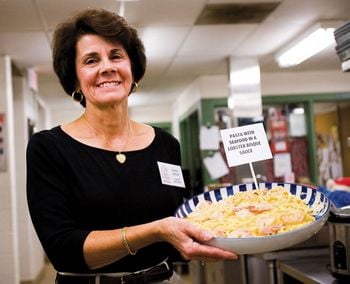 HUDSON – Fresh cucumbers and dry-roasted peanuts with a bit of an Asian flair was the recipe for success for Nashua resident Carole Barker at The Telegraph's annual Culinary Delights Cook-off at Alvirne High School on Saturday.
Judges chose Barker's Nutty Cucumber Salad tops in a field of nearly 30 entries in the 26th annual event, hosted by Alvirne's Culinary Arts Department and held in its Checkers Restaurant. The dish became a finalist by first winning the Soups & Salads category, which was the second of four to be judged.
Barker, who said she discovered the recipe in Cooking Light magazine, describes the salad as "a little bit sweet and a little bit salty," adding that its versatility and ease in preparation makes it a regular favorite for her table at home.
Other category winners were:
Diane Fauteux, of Manchester, Appetizers & Sides category for her Hearty Broccoli Dip.
Jessica Cottrell, of Nashua, Main Dishes category for her Pasta with Seafood in a Lobster Bisque Sauce.
Denise Trombly, of Nashua, the Desserts category, for her Mom's Soft Christmas Caramels.
Each category winner receives a $100 prize, and the grand-prize winner receives an additional $250.
The judges were Arnold Canner, last year's grand-prize winner; WZID morning drive show host and Telegraph columnist Mike Morin; and executive chef Dan Cathcart, the lead judge.
Complete cook-off coverage and photographs will appear in Wednesday's Feast section of The Telegraph.