Wind chill will add extra bite to deep freeze today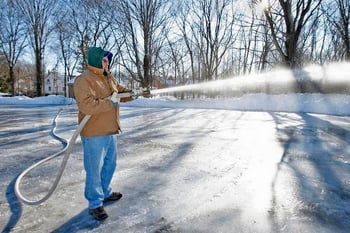 You know it's cold outside when you can count the temperature on the fingers of one hand. But first make sure that hand is covered.
Arctic air will linger in the region the next few days, making the briefest exposure to the cold not only unbearable but dangerous.
"At some point in winter, the cold air gets down here, and it certainly will be here the next few days," National Weather Service meteorologist Jim Brown said.
Today, the thermometer mercury will probably nudge no higher than 14 degrees, but the wind-chill value will make it feel like minus 6 degrees, according to NWS. At night, it will in fact be below zero, wind or no wind: a low around minus 5 degrees.
Friday will be no day at the beach, either. The temperature will halt at 8 degrees, but the winds should taper a bit to make a slight difference for the better, Brown said. Friday night will be around minus 1 degree, and Saturday's daytime temp will hover around 13 degrees, NWS predicts.
Health experts warn everyone to dress appropriately when outdoors, and to take drastic precautionary steps if exposed to the cold air for more than a few minutes. The risk of frostbite and hypothermia runs high in such conditions, they said.
"You really need to respect the elements. It can sneak up on you," said Dr. Jeremy Dzen, an internist at Southern New Hampshire Medical Center in Nashua.
Prolonged skin exposure to freezing air will make the body lose its heat and needed perspiration, Dzen said.
Frostbitten skin turns gray-white or waxy, and the area becomes numb and painful, Dzen said. Other than professional medical treatment, the best cure for frostbite is to warm the affected area in warm but not hot water, he said.
But a victim shouldn't warm an area and then allow it freeze again, Dzen said. Also avoid rubbing frostbitten areas and walking on affected toes and feet, he said.
>>COLD-WEATHER TIPS<< Hypothermia causes a victim to shiver to generate heat, adrenaline and heart rate increases, and judgment is impaired, Dzen said. Anyone with hypothermia should seek immediate medical evaluation; a hospital will perform warming techniques, he said. Dzen won't have to tell Derek Taylor and Rich Davis to dress warmly. They work for Nashua Parks and Recreation Department and spend most of their days outdoors. On Wednesday, Taylor and Davis did what most people wouldn't want to do when it's only 16 degrees. They took turns blasting water from a hose to resurface an outdoor ice skating rink off Sargent Avenue. But they each dressed in layers: shirt, sweatshirt, coat, jeans, hat and gloves. This was enough protection, but they acknowledged they'll wear a bit more today and Friday. On Main Street, John Baril had to install a fiber optic line on a string of utility poles for the telecommunications company NextGen. He had enough layers on to open a clothing store. "I put so many on, I forgot (how many there are)," Baril said before having to count his padding: long johns, two shirts, sweat pants, Australian-made scarf, gloves, winter cap, and safety helmet with a New England Patriots logo. Baril doesn't get cold with levels of protection, he said. And because he loves the change of seasons, he won't complain, either, he said. Firefighters not only dress to stay warm but also have to ensure their equipment doesn't freeze, Nashua Fire Rescue Deputy Chief John Allison said. Water has to be drained from hoses, and even the slightest bit of moisture in a breathing apparatus will be problematic, Allison said. A hydrant's water supply pool is below the ground freezing line, but water can still seep inside and freeze a hydrant, he said. Fire trucks then have to tap hydrants at a distance from the fire scene, he said. Arctic winds will also blow a fire around, and the cold air slows the flow of water toward flames, Allison said. A fire that requires 1,000 gallons of water to extinguish will need about 10,000 gallons in colder weather. Firefighters rotate when working a blaze, and they wear long johns and wool caps. But they can apply only so many layers, otherwise they won't be able to move. "We do take a pounding in this weather," Allison said. "But we do take precautions and protect our people."