'Whole' lot of speculation on Bedford grocery site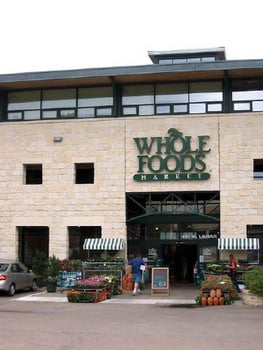 While the Whole Foods Market grocery chain is still moving forward with opening a store in the proposed Nashua Landing development despite the project's slowdown, much of southern New Hampshire's commercial real estate community is abuzz with talk that it might be seeking another location in the Granite State.
The speculation is focused on a proposed redevelopment by Newton, Mass.-based Packard Development of the Macy's site in Bedford. Packard's plans include three commercial buildings, including one for a grocery store.
The plans were unveiled in February to the Bedford Planning Board, although no specifics were revealed. But since that time, commercial real estate professionals and others in the region have speculated that Whole Foods — an Austin, Texas-based grocery store chain specializing in natural and organic products — might be the grocery tenant Packard had in mind.
According to Bedford Planning Board minutes of Feb. 11, Packard is entering into an agreement with Macy's to ground-lease the land under the proposed new buildings, with associated parking.
At that Feb. 11 meeting, Paul Cincotta, project manager for Packard, said the firm envisioned "predominantly smaller more high-end type retail tenants" for the development, and that the firm was "seeking an anchor-type tenant, which we've shown on the plan to be as a grocery."
Cincotta said that Packard was hoping for construction on the Bedford Macy's site to begin in the spring of 2009, with completion in less than 18 months.
No specific store names were given at either the Feb. 11 or a subsequent June 2 meeting.
'Always looking'
Meanwhile, when asked about the possibility of the chain opening a Bedford store, Robin Rehfield, public relations director for Whole Foods' Eastern region, said it was company policy not to comment on potential sites. "But we are always looking for new sites," she added.
Still, the rumors persist.
Dan Scanlon, a real estate adviser for Grubb & Ellis|Coldstream Real Estate Advisors Inc. in Bedford, said he has spoken with a Whole Foods retail broker who said the company was close to making an announcement about a store "that would fill the need in the region."
"The grocery tenant space at the Bedford development is about 40,000 to 45,000 square feet, and that's typically the size Whole Foods uses," said Scanlon.
As for Whole Foods' other site at the proposed Nashua Landing, Rehfield said, "We are still moving forward with the Nashua store."
The Nashua Telegraph reported in June that the Nashua Landing lifestyle center — and open-air shopping and entertainment complex — was swiftly running out of time before site plan approvals expire.
The Nashua Telegraph reported in June that ground had yet to be broken on the Nashua Landing lifestyle center, an open-air shopping and entertainment complex.
New England Development of Newton, Mass., lead developer for Nashua Landing along with Packard and W/S Development of Chestnut Hill, Mass., received a project extention from the Nashua Planning Board on July 10 — one day before site plan approvals were set to expire.
Whole Foods had signed on to be a major tenant at Nashua Landing, which was to have been completed in 2009.
The proposed Nashua store is still listed as "in development" on Whole Foods' Web site.
Cindy Kibbe can be reached at ckibbe@nhbr.com.