Where 'people' meets 'product'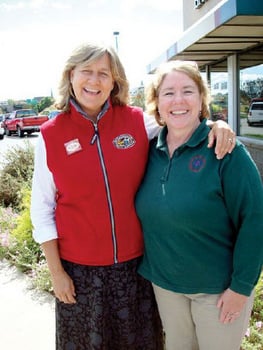 By working closely together on many events, sharing resources and strengthening their common message to promote the Granite State, the Granite State Ambassadors program and New Hampshire Made are proving that two heads are better than one.
Judi Window, managing director of the Granite State Ambassadors, described her organization as "guest-focused," looking at New Hampshire from a visitor's perspective – who "could be someone from another state or someone who has lived here his or her whole life."
The Ambassadors – whose tag line is, "New Hampshire's information specialists" — is a nonprofit organization that not only provides volunteers to man information desks at the Manchester-Boston Regional Airport, but at visitor centers across the state. It also provides training to others in the travel and tourism industry as well as to those who interact with the media and other groups involving the New Hampshire's presidential primary.
"We found ourselves seeing each other at trade shows and other events, and began wondering if we couldn't work together more closely," said Laurie Ferguson, executive director of New Hampshire Made, a nonprofit organization dedicated to providing marketing assistance to the state's cottage industries, many of whom produce gourmet foods or handicraft products.
Window said "it just made sense" to collaborate on some events, since both organizations' missions are essentially to inform locals and visitors alike about New Hampshire.
"We're always working together in some way," she said.
GSA and New Hampshire Made share a booth at the Made in New Hampshire Expo, which is held annually in April. While the expo is not sponsored by Ferguson's organization, New Hampshire Made and its members do play a large role in the event, as do the Ambassadors' volunteers.
New Hampshire Made and GSA also will have a large presence at the 2007 Eastern States Expositions, or Big E, taking place the last two weeks of September. GSA volunteers are managing New Hampshire's exhibit building. Many of New Hampshire Made's associated businesses will showcase their products at the fair.
The groups are also partnering at the Keene Pumpkin Festival on Oct. 20, helping to coordinate tens of thousands of pumpkins as the festival tries again to break the world's record for the most lit jack-o'-lanterns.
The organizations – both of which will be celebrating their 10th anniversaries this year — are pooling both their financial resources and manpower for a joint invitation-only celebration for their members and associates, taking place Oct. 19 at Canterbury Shaker Village. A unique buffet dinner will feature food products from members of New Hampshire Made with coordination for the event provided by the volunteers of GSA.
GSA and New Hampshire Made also are encouraging their members to take part in a special "New Hampshire Grower's Dinner" that night at the village's Shaker's Table restaurant, featuring locally grown or produced foods.
The Ambassadors and New Hampshire Made also are working to promote a new collaborative marketing program spearheaded by Red Brick Publishing called the Granite State Rewards card.
The discount card program, expected to be launched in October, will allow cardholders to receive specials and discounts on items sold by New Hampshire Made members and other retailers and restaurants.
According to Ferguson, the Granite State Rewards program "will help all participating retailers. Not only will a retailer be referring customers to other shops, those other shops are also sending customers to that store as well," added Ferguson. "Everybody wins."
Added Window: "Non-competitive marketing is the new way to do business."
For more information on New Hampshire Made, visit nhmade.org or call 603-735-6420. Information on the Granite State Ambassadors can be found at nhgsa.com or by calling 603-621-0638.