Where and when to vote in your town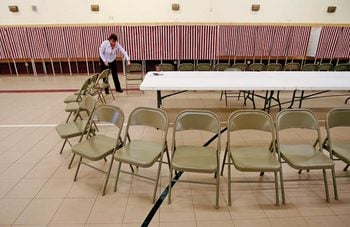 Today is election day in towns throughout New Hampshire. For details about candidates and issues in area towns, check The Telegraph's Town
Meeting pages at www.nashuatelegraph.com/townmeeting. In case you've forgotten, here are the local polling places and times the polls are open:
AMHERST
Souhegan High School, Boston Post Road, 6 a.m.-8 p.m.
BROOKLINE
Capt. Samuel Douglass Academy, Townsend Hill Road, 7 a.m.-7:30 p.m.
HOLLIS
Hollis/Brookline Cooperative School, 24 Cavalier Court, 7 a.m.-7 p.m.
HUDSON
Community Center, 12 Lions Ave., 7 a.m.-8 p.m.
LITCHFIELD
Campbell High School, Highlander Way, 7 a.m.-7 p.m.
LYNDEBOROUGH
Town Hall, 1131 Center Road, 8 a.m.-7 p.m.
MILFORD
Milford Middle School, 33 Osgood Road, 6 a.m.-8 p.m.
MONT VERNON
Village School, Harwood Road, 7 a.m.-7 p.m.
PELHAM
Pelham High School, Marsh Road, 7 a.m.-8 p.m.
WILTON
Town Hall, 42 Main St., 10 a.m.-7 p.m.
WINDHAM
Golden Brook School, Lowell Road, 7 a.m.-8 p.m.