When some banks near defeat, smaller institutions win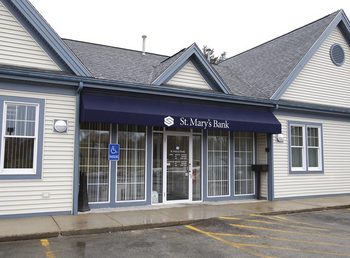 They aren't blaring sirens or flashing blinding lights, but credit unions have taken on the role of emergency first responder during the ongoing economic crisis.
And some observers say they are doing a good job on the front line, using new strategies and new products to attract members.
Many credit unions are doing better than banks by offering higher interest rates, more mortgage refinancing programs and continuing consumer education aimed at empowering members and the general public.
"The 23 credit unions with headquarters in New Hampshire are making a real effort to be helpful," said Rob Kimmett, senior vice president of marketing for the New Hampshire Credit Union League.
Credit unions, which by design are cooperatives owned by their members, have been a stable force in communities across the state and nation for a century, ever since St. Mary's Bank, the first credit union in America, headquartered in Manchester, opened its doors in 1908.
Even during the Great Depression, when banks locked their doors and customers were unable to withdraw their money, "nobody ever lost a dime in a credit union," Kimmett said, crediting the success of credit unions to "sticking with the basics," a philosophy that has not lost its currency over the years.
The basics, paired with new incentives, seem to be working.
At Triangle Credit Union in Nashua, for example, an online savings account that was introduced in October, promises members a return of 3.25 percent.
That rate is expected to drop to 2.75 percent April 1 because of current economic conditions, according to Amherst branch manager Ijaz Akthar.
But customers who enroll will still do better online since the interest rate on a traditional savings account at Triangle remains at 0.51 percent.
Akthar said the online product requires access to the Internet.
In fact, a member must conduct all transactions online, with the exception of making deposits in a checking account.
A customer who wants to go the traditional route, having a teller complete the transaction, must pay $25 for the privilege after enrolling in the online program.
Still, there are no monthly fees and a customer must leave just $25 in the account to keep it open.
"It's a better rate of interest, and we're beating the CD interest as well," Akthar said. The average interest is around 1.58 percent for a six-month CD and 2.06 percent for a one-year CD.
Akthar added that financial experts advise the public to use savings accounts to keep enough funds available to easy access.
"If you put money into a CD for three months, you have access only with a penalty," the branch manager observed, although some banks do allow for some sort of early withdrawal without penalties.
Triangle isn't the only financial institution offering a savings incentive.
But Akthar said the credit union's interest rate surpasses that of some of the global, corporate financial institutions.
Last week, for example, he compared Triangle's 3.25 percent interest rate for the online savings program with similar offerings by the big banks: Capital One was offering 2.27, while ING was at 1.95 and GMAC was at 2.25 percent.
In addition, HSBC was offering 1.85 percent for its online savings product.
"We're in global financial chaos. Everybody is suffering in the midst of this financial storm, and Triangle is thriving," Akthar said.
A higher rate of return on online savings isn't the only way Triangle is helping its members, however.
Akthar said the credit union is offering auto loans for 4.50 percent, with no payments due for the first two months and no processing fees, and it also has a home equity credit line with 3.25 percent interest, for those who qualify.
"The credit union is safer because we're conservative about lending money.
"It puts us in a position where we don't lose money from foreclosures," Akthar said. "Over the last 20 years, we've had about two home foreclosures."
Akthar and other New Hampshire credit union executives said conservative lending practices kept them out of subprime lending.
As a result, delinquencies, charge offs and bankruptcies have been far lower in their institutions than in the banks.
And while some credit unions have been beefing up their financial education offerings, with everything from "Lunch and Learn" seminars to workshops, many described their response to the economic crisis as "business as usual."
"Life happens – death, divorce, sickness – and we encourage our members to call us, or we contact them directly to begin to work with them," said Mike L'Ecuyer, president and CEO of Bellwether Credit Union based in Manchester.
"There are more (deposits) now, with everything."
Deposits made to credit unions are insured by the federal government for up to $250,000 through the National Credit Union Administration, a federal agency.
It is identical to coverage of bank deposits by the FDIC.
L'Ecuyer said deposits began increasing in response to the global money crisis last fall.
In addition, more members have been refinancing their home mortgages, a response to lowered interest rates and new programs that raise eligibility based on the ratio of loan to debt.
"We find out what's new and communicate it to all of our employees, then train the front-line staff," L'Ecuyer said.
Granite State Credit Union, which has a branch in Amherst, has been "hauling in mortgages" in recent months, according to Jody Ducharme, marketing communication liaison.
Like her counterparts across the region, Ducharme said the credit union model – a nonprofit, member-owned organization with no paid board of directors or shareholders – gives the organization an edge during difficult economic times.
"The profits go back to the members in better rates and higher yields," she said. "It's not in our best interest to put a member in a mortgage they can't afford."
But many credit unions also reported that despite the financial crisis swirling around them, they remain well-capitalized.
Capital is money that isn't committed.
"In general, rates of return at credit unions, the basic products, are more attractive," observed Kimmett, the New Hampshire Credit Union League executive.
But credit unions are structured to meet the needs of a variety of members.
"It's a question of immediate course correction. We pay attention to trends day in and day out," Kimmett said.
At St. Mary's Bank, Steven Macek, director of retail lending, qualified what he described as business as usual for his institution.
"In the second quarter of last year, we recognized many were struggling on the collection side, and we had to go through the alternatives, modifications, short sales to raise awareness, educate about foreclosure," Macek said.
As a cooperative, however, St. Mary's policy is to provide the same level of support and information, no matter the member's situation, the executive said.
"We take the stance that our members going through difficult times should be treated with the same respect as those who are processing new loans," he said.
Meanwhile, St. Mary's is developing programs it plans to offer to members and the general public to help them deal with their personal finances.
On April 4, the credit union is holding a workshop in Manchester on how to avoid foreclosure.
On May 20, it plans to offer a program called "Investing in an Uncertain Market," at its Milford branch.
The programs are also a way to attract new members who are eligible to join if they live or work in the state, Macek said.
He said the cost of membership, which has not changed since St. Mary's opened, is $5, the price of one share of stock.