Wellness event offers unique treatments, testing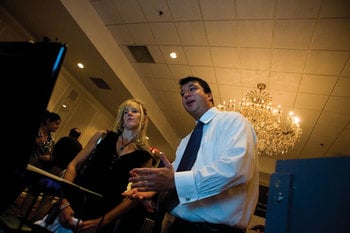 Ron Michaud never thought of doing tai chi breathing techniques to improve his health until he came to The Telegraph's Health and Wellness Fair on Sunday afternoon at the Radisson Hotel Nashua.
Michaud, 53, of Nashua, learned breathing exercises from Bobby LaMattina, owner of Tokyo Joe's Studios of Self Defense.
"I'd never seen anything on that before," Michaud said.
Michaud and his wife, LouAnn, have come to the annual fair before, but this year it's taken on more relevance this year because Michaud had a heart attack last year on Thanksgiving, said LouAnn Michaud, who came to get information on nutrition.
"(The heath fair) is a wonderful service," LouAnn Michaud said. "It makes the community aware of what's available if we didn't have these things people wouldn't know."
LaMattina professed that the key to his health regimen has four basic elements, consisting of breathing exercises, standing and sitting stretches, self-massage and healing meditation.
"The body-mind connection is what it's all about," LaMattina said.
While the Michauds spoke to a reporter, Ron's mother, Gert, was getting a massage from Family Chiropractic of Merrimack. Gert Michaud said the massage felt so good, she fell asleep.
There were many unusual health services to take in. For example, Karen Schreiber, an acupuncturist, in Merrimack and Durham, demonstrated acutonics, which is like acupuncture, but the practitioner uses tuning forks instead of needles. Schreiber's exhibit caught the attention of Rebecca Hesse, 29, of Nashua, who gave it a try.
"It was neat," Hesse said. "I'd be interested to learn more about it."
Lina Faller, of Germany, tried reiki therapy. Although she is studying science at Boston University, she said she couldn't figure out how reiki works. In reiki, the practitioner sends healing energy through the palms of his or her hands to the patient.
"There is a tingle and a comfortable warm feeling, excellent," Faller said.
Reiki practitioner Diane Pictrowski, of Manchester, said she can send healing energy anywhere in the world, no matter how far away the receiver is.
"I send it to my sister-in-law who is three hours away," she said.
Wendee Glick and Bob Ullman, of Nashua, boxed, bowled and played tennis on a Nintendo Wii at the Northeast Rehabilitation Health Network booth. Nintendo Wii has motion sensitive controllers that allow the players to simulate motions of real life sports.
"It's a fun way of doing therapy," said Kristen Schmidt of Northeast Rehabilitation.
Among the most interesting sights at the fair was a "silly stunt" in the form a science experiment performed by Telegraph reporter David Brooks and his friend Tom Wahle.
Their mission was to find out if a person would gain as much weight eating a pound of celery, which has no calories, as someone eating a pound of strawberry rhubarb pie, which has 1,200 calories. Brooks will release his findings in his weekly column Wednesday.
While Brooks said he felt fine after the experiment, Wahle said he had a bit of a stomachache.
"I'm not going to eat a whole strawberry rhubarb pie again," Wahle said.
In all, about 1,000 people came to the fair, which featured about 40 vendors, said Shana Hoch, The Telegraph's director of retail advertising, as she gave blood at the Red Cross Blood Drive across the hall from the fair.
One thing that surprised Hoch was the demand for the umbrella decorated with cartoon strips that that The Telegraph was giving away as prizes.
"The vendors are happy and they are seeing people who are interested in their business," Hoch said.