Welcome to our new look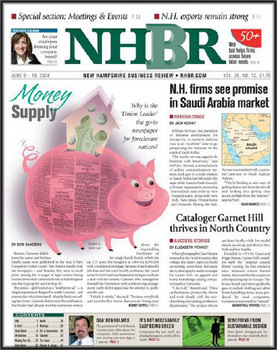 We know your time is at a premium in today's ever-demanding business climate. It is with this in mind, along with our 30th anniversary, that we present our new design.
Business executives need information delivered quick and easy. This is precisely our mission at NHBR – to provide our valuable readers with an easy-to-read publication loaded with information that keeps you on top of New Hampshire business news and gives you the tools you need to help you succeed.
The new banner you see on the front of the paper, NHBR, replaces our full (and proper) name, New Hampshire Business Review. Our research has told us that most of our readers, and even other media in the state, have long referred to us as NHBR. We like this – it's simple, and it has the added benefit of coordinating nicely with our increasingly popular and dynamic Web site, NHBR.com.
Our Web site and our newspaper are the perfect complement. Online, we provide daily business news for our readers, and our print edition provides readers with the most comprehensive business news we can get our hands on. 
You'll notice that our cover includes multiple entry points to the issue's news and features, allowing you to decide, at a glance, what you'd most like to read – what's most important to your work life.
In particular, you'll notice an expanded calendar of business events, new columnists – including Susan Osborne, New Hampshire's only certified image consultant – a more readable and informative stocks page, an expanded "NHBR About Town" feature that includes more photos and highlights from business events held around the state. And don't miss our new "Take 5" feature on page 3, which provides a snapshot of informative, and sometimes unusual, tidbits for and about business.
We hope you enjoy the changes we've made to NHBR. As always, we welcome your input – good, bad or indifferent. Our goal is to continue to earn our keep as New Hampshire's community business newspaper, making sure our readers are at the heart of the decisions we make.
We know that if we keep you happy with our endeavors it means our advertisers continue to get excellent value by reaching the state's most vital business leaders in a must-read publication. In the end, we all win.