Weekend events give a peek at city's past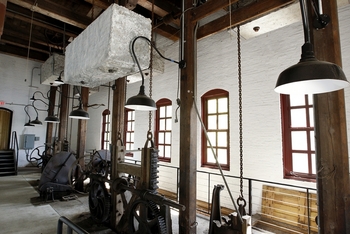 NASHUA – If you've ever wondered what that glorious Federal home atop Library Hill looks like inside, or how Nashua's mammoth textile mills operated before electricity, or how you, too, can own one of the city's most unique historic artifacts, then this coming weekend is for you.
Several facets of Nashua's history will come alive starting Friday and going through Sunday as part of the first Three Days of Nashua History program, which was initiated to consolidate events and showcase new and ongoing projects into a visitor-friendly format.
As anyone who took part in former city official Alan S. Manoian's walking tours in recent years knows, Nashua is loaded with fascinating little tales, many borne of seemingly insignificant – at least at the time – occurrences that would tweak, sometimes even change the course of, events that shaped the Gate City.
A couple of first-time events spice up the weekend schedule – one is an open house at the 1886 Nashua Manufacturing Co. gatehouse at Mine Falls Park, which has been painstakingly restored over the past 11 years, and historic walking tours of downtown Nashua, led by Nashua High South AP history students, which are planned for Sunday afternoon.
The timing of the history-packed weekend is especially good for the gatehouse. On Tuesday, city public works and park department officials and their partners in gatehouse restoration – the Fairgrounds Student Historic Preservation Team – were honored by the New Hampshire Preservation Alliance for their outstanding work in restoring the long-abandoned building.
Three Days of Nashua History
Project manager Amy Gill, who works in the city engineer's office, and others will be on hand at the gatehouse to answer questions and hand out written information on the building and the 3-mile-long manmade canal that was dug – mostly by hand – to allow Nashua River water to flow down to the Millyard to power Nashua Manufacturing Co.'s huge machinery.
After years of work, the original equipment – giant gears, chains, counterweights and measuring devices – are restored to their original condition, allowing a visitor to see how workers managed the water flow. The gates aren't yet operable, but it's hoped they will be included in the next phase of restoration.
Friday night, lifelong Nashua resident and history buff Robert Sampson will host a speaking program called "Cinders, Railroad Tracks, and a Receipt for Pillowcases," at the Nashua Historical Society, which is History Weekend headquarters.
A number of artifacts and other items related to the gatehouse and Nashua Manufacturing will be exhibited. The event, as are all History Weekend programs, are free of charge.
Saturday will be a busy day as well in and around the Historical Society. The ever-popular Nashua Garden Club plant sale starts at 9 a.m. – although patrons are known to arrive earlier – with a wide variety of plants and flowers on sale. The goods are known to go fast, so don't wait too long to arrive.
At 11, the fourth triangle manhole cover auction will take place outside the society's Speare Memorial Museum. If you're not familiar with these whimsical artifacts and the story behind them, it's worth coming by and learning. In short, these three-sided slabs of iron covered many manholes in city streets, starting in the early 1900s after a local inventor named Walter Ellis developed them.
The reason? They don't rattle and clank if pebbles or debris fall into the cracks – which can't be said for their more common round cousins. Nashua is said to be one city of very few – perhaps the only – in the world to have used them.