We asked you to rhyme, you took the time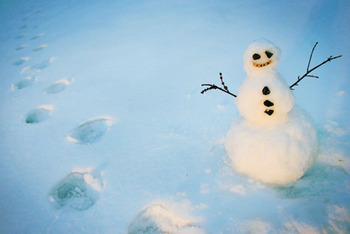 The Telegraph got dozens of responses Wednesday when it asked for readers to submit limericks about this winter – including one that had "This is getting addictive!" in the subject line of the e-mail.
"I just love any kind of writing; words thrill me. But I haven't written a limerick before," said Candence Beard of Merrimack, an educator whose addiction to prose caused her to submit no less than five of the little poems.
Others must have enjoyed the challenge, too, since we got a lot of limericks, including one that claimed to be from Great Britain.
Most lamented the effects of the recent ice storm, but a few celebrated the Currier & Ives side of winter.
We chose several poems that we liked, which follow.
All of the submissions – including a couple that are closer in form to "Beowulf" than the light verse popularized by Edward Lear – will run with the online version of this story at nashuatelegraph.com.
The trees lay broken, bent and awry
As freezing rain fell from the sky
No power for us
Which caused me to cuss
#@@*# ##@&# @##@, oh my!
– CANDENCE BEARD
Winter came in with a slam.
Each roof had a snow and ice dam.
I yelled from my mouth
"I'm moving down south!"
Like maybe to old Alabam.
– DAVID H. BAILEY
Do you know when the power truck's coming?
I can feel my extremities numbing.
Please don't keep me guessing,
I find darkness depressing
and I'm terribly fond of my plumbing.
– STEPHEN SCAER
Leaving the south thirty-eight years ago,
After marrying my sweet Yankee beau,
To New Hampshire I flew,
And now I'm telling you,
I still love it despite ice and snow.
– NELL SHEA
I woke up one morning at three
To see ice on every tree
The power went out
I had to pout
Cause it made it quite hard to see
The seat on the toilet is cold
To use it I must be bold
No lights and no heat
It's a terrible feat
But my bladder no longer can hold
– "duckzoom" (Web name)
When people dream of snow and ice,
they think having it would be really nice.
Yet they very well might;
be somewhat contrite,
when they've fallen down once or twice!
– CAROL GORELICK
Waking at an ungodly hour
It's cold, it's dark. I've lost Power!
How long must I wait
It's now more than 3 days
Since I've slept well or taken a shower
– Mrs. Debra Hollins
Snow can be fun,
but please not a ton.
I don't like this mush,
of rain, ice and slush.
A little snow here, a little snow there,
falling ever so softly out of the air.
I'm a Mainer by birth, but now live in Mass.,
to much warmer climates, I'm ready to dash!
– Chuck Yaichner
And now you have power, you cannot deny
When you get your bill, you just might cry
Maybe you are better without the juice
As now you are thinking of stringing a noose
So maybe the kero to take out the chill
And cooking your meals on a gas grill
Was not as bad as writing that check
And mailing it off to that pain in the neck.
– John Bachman
I rue the demise of the birch tree
The food in the freezer that's melty
But what I miss most
My favorite dark roast
Please, somebody bring me some coffee!
New England makes the news when it snows Or sleets so much that schools have to close It seems that the nation Finds great jubilation Glad it's us and not them I suppose
The snow turned to sleet, then freezing rain Our power went out, oh what a pain No phone or TV Or coffee for me Silence, it seems, will drive you insane
You asked us to send you a lim'rick
It seems that I must do it real quick
Again rain is falling
It's oh so appalling
To think we could lose our electric
– Candence Beard
The pictures of snow looked so nice
But they didn't show any ice.
With powerlines felled
New Hampshirites yelled,
It better not happen twice!
The storm made the big tree fall down.
It happened all over the town.
The power was out,
We all had to shout,
"Our power rates ought to come down!"
Upon everything ice is forming,
Up above heavy snow-clouds are forming.
Just be grateful, not sad
And imagine how bad
It would be if without global warming!
We freeze while we sit on a mass
Of heat lying just 'neath the grass.
The top six miles of crust
50,000 times bust
All the energy oil has (and gas)!
– Doug Harris, Stockton-on-Tees, UK
I once knew a man from a barge
Who married his girlfriend named Marge.
When it snowed he'd go scrape
His iced car to escape
'Cause their home had a one-car garage.
Now Marge did not like scraping snow
So both knew where her car had to go
Though he loved deep within
When his car was snowed in
He would hunt for his arrow and bow.
But this story, it has a good ending
Otherwise, I would not now be sending
Marge gave up her car
Cause her job wasn't far
Now his car, when it snows, needs no tending.
– Sharon Spivak
The phone pole is still in my road
from the first STORM this winter bestowed-
yet, I thought we were through as the temperatures grew,
until I heard last night it snowed…
– JCM (Web name)
A tree on my deck was no fun.
I long for the warmth of the sun!
Though Coburn Woods is our name,
tree cutting's our game.
There'll be nary a twig when we're done!!!
– Trees, who needs em? (Web name)
We will stay in the ice and the snow
When, to Florida, all our friends go;
We'll be snowbound, no doubt,
But we'll dig ourselves out
As our ancestors did long ago.
– Priscilla Januskiewicz
I'm sure glad I live in New Hampshire,
It's not very crowded for damn sure.
But the weather sometime,
Is less than sublime.
Another ice storm and we're done for!
– Carmen Yarrusso
Waking at an ungodly hour
It's cold, it's dark. I've lost power!
How long must I wait
It's now more than 3 days
Since I've slept well or taken a showeri
– Mrs. Debra Hollins
The months of winter go slow
Oh that north wind does blow
With nose and mouth covered can't even say hello
As we wave to one another we know
Several more months to go
– Peggy L'Ecuyer
As New Hampshire people we know
We have to be ready for snow
But trees loaded with ice
Are not very nice
When crashing on us far below
– Hetty Andrews