Waterville Valley: a great location for events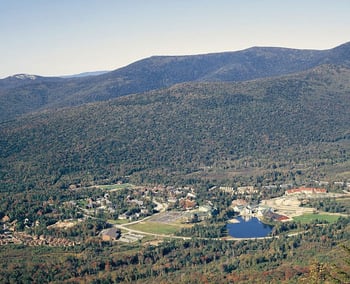 The Waterville Valley Conference and Event Center in the postcard-pretty village of Waterville Valley is open year-round for events such as weddings, association meetings and team-building exercises.
The center can accommodate groups of 50 to 1,000 people at the 500-acre site with a variety of year-round recreational activities, both indoors and out.
"Once they get here, they can just park their cars and walk to the conference center and walk to all the recreational facilities," said Deb Moore, marketing director for the Waterville Valley resort.
As of April 4, there were still 50 trails open for skiing, with more snow coming down as Moore spoke. When there is sufficient snow cover, the Waterville Valley resort also offers some of the best cross-country ski trails, groomed and graded for beginners to hard-core skiers.
There also is an ice skating rink open from August through spring, indoor swimming pools and, for the warm weather months, golf courses and tennis courts abound at the popular resort area. There are guided hikes through portions of the White Mountain National Forest and many other activities for people of all ages, interests and abilities.
"Outside the business agenda, it's important for groups to have something to do without having to travel to do it," said Moore. It's all right there in a setting that is not only breathtakingly beautiful and down- home friendly on a one-to-one basis, but also provides "a very group-friendly environment," Moore said.
For more information about the activities and conference opportunities available at the Waterville Valley Conference and Event Center, visit waterville.com.