Water table causes problems for Litchfield school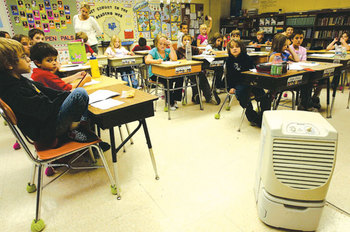 LITCHFIELD – Griffin Memorial School has plenty of issues, according to school officials.
Built in the 1930s and enlarged six times since, some worry that problems with aging systems, such as electrical or heating, could close the school for weeks at a time. This summer, more than $300,000 was spent to meet fire safety codes and the oldest portion of the building was closed off.
But not the least of all the middle school's issues is the water table brimming just beneath ground level, according to School Board Chairman Dennis Miller. That water often penetrates the school's foundation making the building very humid, and even coating the floors of some classrooms with condensation, Principal Bo Schlichter said.
Every room runs a dehumidifier 24 hours a day from October through April, when the heat gets turned on.
"This has come up in the context (that) excess moisture in any building is just not good," Miller said. "You can end up with significant amounts of humidity."
Since the district spent more than $200,000 in the late 1990s on a ventilation system, the school has passed its biannual air quality tests, Schlichter said.
But humidity and moisture are one of several indications that air quality in public schools isn't as good as it should be, according to Denise Brewitt, executive director of the Council for Children and Adolescents with Chronic Health Conditions.
"There's definitely an impact. It's definitely an issue," Brewitt said.
The council's aim is to work with schools and teach staff there simple ways they can help improve air quality, including things like eliminating dust-magnet clutter and removing items like throw rugs from classrooms, Brewitt said.
"What we're trying to do is get schools to focus on the issues they have with students that have asthma and respiratory issues and of teachers and staff that work in the building," she said. "Some of these buildings are extremely old."
This summer, the Litchfield School Board learned that the design of an underdrain system and the necessary studies to design the system would cost $92,000. That doesn't take into account the construction of the system.
The system would reroute the water table away from the school, Miller said.
"You basically make it so you can pump the water around the facility," he said.
Four years in a row, though, voters have turned down proposals to build a new school, including a $22.2 million plan this year to build a new 100,000-square-foot building with room for kindergarten through fifth grade.
It would be difficult, Miller said, to expand or renovate the school without first remedying the water table problem.
"You could do it, but it's not advisable," he said. "Everyone has said you want to solve that water problem first before you do anything significant, whether it's a renovation or expansion."