Voters in 4 towns to decide on value, funds for on-call bus service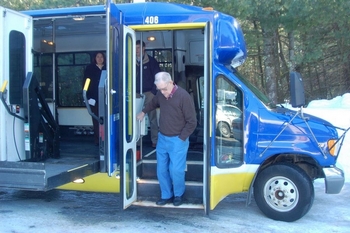 BROOKLINE – Bone-chilling temperatures Tuesday didn't stop people gathered in cozy Brusch Hall for a meeting of the local senior citizens' club from going outside to check out the big blue bus.
The Nashua Transit System vehicle was in town to demonstrate a program that gives rides to nonemergency medical appointments.
The pilot project has been running since October 2008, providing people in Milford, Amherst, Brookline and Hollis with bus rides for $2 each way. Started by the Souhegan Valley Transportation Collaborative, the project is paid for mainly with grants and donations.
Now the four participating towns are being asked to shoulder the cost, and residents will be asked to vote on the Transportation Collaborative's article on their Town Meeting warrants.
>>Town Meeting '09<< About a half dozen of the Brookline Seniors group tried out the bus Tuesday, including Del Porter, who was there with his wife, Rogene. "I'm still able to drive," he said. "But it's going to be good for a lot of people." Members of the Transportation Collaborative were there to explain the program. Janet Langdell, chairwoman of the Milford Planning Board, said the bus is for anyone who needs rides for nonemergency medical reasons, "so your children or grandchildren might want to use it. "The bus has potential for helping people maintain a sense of independence," she said. Langdell said the group would like to see it grow beyond the four towns. In addition to doctor appointments, the bus takes people to pharmacies, social service agencies, dialysis, physical therapy, and hospital and counseling services. One goal of the collaborative is to extend the service for shopping and for rides to senior meals. Barbara Heinselman, of Brookline, was there with her husband, former Selectman Russ Heinselman. She called the bus, "a good idea, especially for people who don't drive." Maxine Erikson, of Milford, has experience using the bus and explained that experience in detail. "I called for an appointment and they came up with a time that suited me. Paul (the bus driver) came and wanted to help me down my steps, but I didn't need help. He made sure I was buckled in, and he wanted his $2. If you don't pay, you stay," she said. "Paul was a very careful driver. It was so easy," she said. "For $2, it's a wonderful opportunity, but don't expect to go in and out right away." The bus picks people up at their door but can arrive any time in a 30-minute window. Raymond Blethen, general manager of Nashua Transit, gave how-to-ride tips. What would happen if a passenger has a heart attack on the bus, asked Ed Krom, of Brookline. Blethen said there are no defibrillators on board, and the driver would have to call 911. He agreed with Krom that the bus company should review that procedure. Milford selectmen voted 3-2 on Monday night to support the $20,000 warrant article, with Chairman Gary Daniels saying he will reconsider his "no" vote if he gets more information. The article has an estimated tax impact of 1 cent, or $2 on a tax bill for a $200,000 house. Amherst selectmen recently voted against supporting the Transportation Collaborative's petition article for $5,500.