Volunteers help spruce up grounds of complex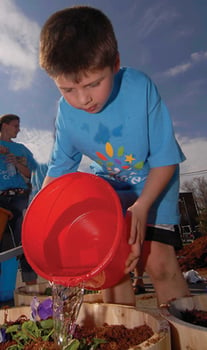 Maria DeLeon hoped that by speaking out, the playground in the Bronstein apartment complex would get a facelift.
Instead, on Sunday morning the entire grounds of the downtown public housing complex got a huge makeover, with residents working side by side with Nashua Housing Authority staff and volunteers from a Comcast volunteer day project.
"This is awesome," said a beaming DeLeon, who grew up in the complex and now lives there with her two young children.
Many of the workers donned blue Comcast T-shirts, including DeLeon and other residents and housing authority staff members who pitched in. Some volunteers brought their families, who joined residents' families in the cleanup effort.
"It's really great so many residents turned out. It's been a great day," said Sarah Gagnon, a housing authority property manager.
Gagnon said that DeLeon worked with the housing authority and Comcast in helping to organize the volunteer day. Also, DeLeon has worked with the housing authority to help write a grant request for new playground equipment, Gagnon said.
The housing authority hopes the request will be approved by KaBOOM!, a nonprofit organization based in Washington, D.C., that helps communities – including in many impoverished inner-cities – create play areas.
"What a turnout – much more than I'd thought we'd get," said Chris Larcome, Comcast's director of finance for the Manchester division.
After reading a story in The Telegraph in March, Larcome suggested that the Bronstein apartment area be adopted as one of about 500 sites for the company's volunteer day project. Most of the activities took place Saturday, Larcome said.
Comcast brought 100 T-shirts and about 30 to 40 volunteers, Larcome said. Every shirt was claimed by a worker, including 30 housing authority staff and their families and as many Bronstein residents.
At least 20 additional volunteers and residents not donning the blue shirts also helped out with the cleanup.
The playground had been in bad shape for years, DeLeon said, which led to her campaign.
Cats had used the sand as a litter box, and skunks and opossums could be seen at night swilling through the trash. Because of the heavy foot-traffic through the common, the playground was filled with garbage, which became more evident after the March snowmelt.
Trash included beer bottles and cigar blunts for smoking marijuana, as well as used diapers from the overflow of a nearby trash bin, DeLeon said.
On Sunday morning, volunteers filled 50 whiskey barrels with soil and pansies, placing them beside each of the 48 apartments and in the two courtyards, Larcome said.
Volunteers also spread around 5 cubic yards of bark mulch, and raked up debris and tree branches, carting truckloads away.
Workers were treated to doughnuts and water and a pizza lunch provided by Comcast.
"There are thousands of people around the country who are doing this," said Karen Baker, a Comcast vice president in the human affairs area.
Taking a break from the work, Baker stood with her daughter, Isabella Baker-Villarreal, 7, who spent her Sunday morning helping.
"I like to do good," Isabella said. "I just want to make the world a better place."
Her mother smiled at the comment.
"I didn't even prompt her," Baker said.
Outside his residence near the front of the housing complex, which faces Central Street across from the Tree Streets, Lawrence Degree stood raking up the yard. Pitching in were his entire family, including his wife, Iris, and seven children, ranging from 8-year-old twins to a 17-year-old son.
The cleanup was a good way for neighbors to help each other, and to get to know new neighbors, Lawrence Degree said.
"We do this all the time – get out with the neighborhood kids," Degree said, adding that he has organized football games and water-balloon fights for the neighborhood kids.
Resident Liz Taveras said she was upset at some online comments that appeared after the first story appeared in The Telegraph. Some readers criticized Bronstein residents, suggesting they had let the area go to trash and now were expecting, in effect, a handout.
"I even cried when I read those comments," said Taveras, who said she has lived in the complex off and on most of her life.
"We don't live here for free. We work," she said.
When she first took up the playground as a personal cause, DeLeon said that the people who trashed the grounds weren't the families who live their now and whose children play in the area.
DeLeon said then she believes parents will be able to maintain the playground if there's a general cleanup and new equipment installed.
Gagnon, the property manager, said that will be key to the grounds staying nice.
"It really takes the residents participating to keep it going," Gagnon said.