Visiting F-18E shakes, rattles, roars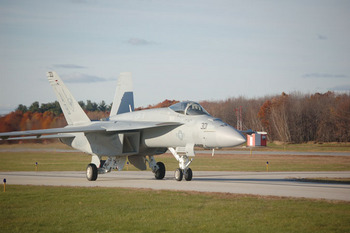 NASHUA – One person saw what appeared to be rocket shooting through the sky. Another thought it was an earthquake. A third joked that it made him dive under the bed.
But the deafening noise and sight of flames shooting through the air in Nashua around 9 p.m. Thursday were not caused by a rocket launch or UFO. They came from a rare appearance by a military jet at the Nashua airport, which is too small for such potent aircraft to visit often.
"He's friendly," airport director Royce Rankin said.
Rankin added that a Navy pilot stopped in Nashua to do a previously scheduled presentation for Daniel Webster College students on his way to a training mission in Maine. The pilot is a 1997 DWC graduate who is now stationed in Virginia, he said.
Video from YouTube user: StalePhish
After leaving Boire Field on Thursday night, the F-18E Hornet jet fighter went to Manchester to refuel, which explains why people as far as Goffstown and Groton, Mass., reported hearing its rumble or seeing the jet ignition.
The plane has what's known as an afterburner, which gives the engines enough thrust to get airborne on smaller runways but produces a trail of flames, Rankin said. The aircraft is also very loud, he said.
A crowd of people gathered at the airport to watch the plane land and take off, the airport director said.
"I've got to admit, I took about 30 pictures myself," said Rankin, who has never seen this kind of aircraft come to Nashua in his 20 years at the airport.
The report generated considerable interest on The Telegraph's Web site Friday.
"We thought it was a damn earthquake!" another reader said in the comments section below the article.
"I thought I was under attack," a reader named Johnny said in his comment. "I dove under my bed."
One person e-mailed The Telegraph that the takeoff rattled the whole house, and the aircraft looked like "a shuttle launch on Cape Canaveral."