Victims of Indian terror attacks remembered at Nashua vigil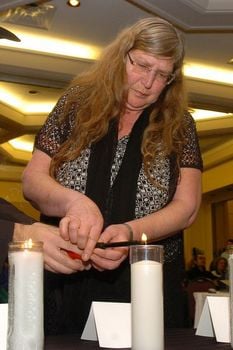 NASHUA – About 70 people gathered at the Crowne Plaza Hotel on Wednesday night to remember the victims of the terror attacks in Mumbai, India, that killed 180 and injured more than 300 people.
The Chabad of New Hampshire and the Jewish Federation of New Hampshire hosted the vigil.
The attacks began Nov. 26 and spread across the city to at least 10 locations. Explosions rocked the Taj Mahal Palace and Tower hotel, where guests were held hostage. The last gunmen were killed Nov. 29.
Latha Mangipudi, a Nashua resident originally from Mysore, India, said she came to the vigil "to show solidarity" with the victims of the attacks.
"I am honored to show my support to the people here who are standing up to terrorists," she said. "Good people across the globe will stand up against the evil. To have this kind of violence against humanity cannot be tolerated." Al Shamash, whose mother was born in Mumbai, traveled from Concord for the vigil.
"It was a very tragic event," he said. "I wanted to show my support for healing the wounds from that. In the face of senseless tragedy, I think we all have to come together."
One of the other locations that was attacked was the Chabad House in Mumbai run by Rabbi Gavi and Rivky Holtzberg.
While the memorial was held in honor of all of the victims, Chabad of New Hampshire Rabbi Levi Krinsky spent most of his comments on the Holtzbergs' mission there over the past five years.
Chabad is an international Jewish outreach organization, Krinsky said. The Holtzbergs' house was a cultural center for Mumbai's small Jewish community and Jewish travelers in the region, he said.
Terrorists killed the Holtzbergs and three people staying in the house at the time of the attacks.
Krinsky also showed a video about the lives of the Holtzbergs. The rest of the vigil included candle lightings and prayers read by Krinsky and others.
"Each and every one of us was a target," he said. "It's important that we have constructive acts in the face of darkness."