Victim of Vine Street fire describes his view of life now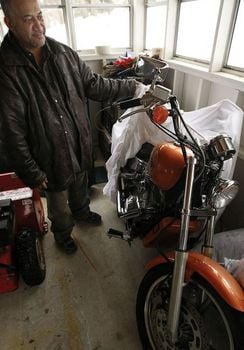 NASHUA – Dagoberto Medina doesn't remember the specific passage of his Bible he was reading when the fire alarm blared, but he recalled it was the Book of Luke and had something to do with the evils of materialism.
It's advice he can look to now, days after a five-alarm blaze destroyed an estimated $15,000-$20,000 of material he had accumulated since emigrating from Honduras almost 20 years ago.
"It's material," he said. "Your life, you'll never (get back.)"
Medina got out of the building quickly and watched from the street as more than 125 firefighters struggled for more than three hours to control the flames. Before it was done, the fire gutted nearly every corner of the three-story building, as well as the 18 apartments and three commercial spaces it housed.
"That was a big fire," Medina said. "I've never seen that in my life."his home of the last three years go up in flames were fear that people were still inside. One man escaped wearing only a towel until Medina loaned him a jacket.
As it turns out, 36 people were left homeless by the fire but no one was injured. No firefighters were injured fighting the fire, either, according to Nashua Fire and Rescue officials.
Since then, the 44-year-old machine operator has been run ragged trying to replace, well, everything. He describes life since the fire succinctly.
"Out of control," he said.
For now, he and his wife, Marleny, are staying at a city hotel found for them by the New Hampshire Gateway Chapter of the American Red Cross. Medina spends his days looking for a new apartment.
He has returned to the husk of his apartment once, in the company of a fire marshal, and was able to recover one pair of shoes and a pair of motorcycle boots. Before that, firefighters had found one of his rings and a necklace, Medina said.
Everything else in the apartment, which was in the middle of the first floor – including furniture, clothes and pain medication Medina takes for the back problems that have kept him out of work recently – was torched.
It was difficult to go back, he said.
"It's completely burned," Medina said. "It's had such an impact on my mind. I can't explain that. It's really bad. It's amazing how you can lose everything in no time."
Luckily, the Medinas haven't had to go it alone. In addition to lodging, the local Red Cross chapter has provided families such as the Medinas with counseling services and money for food, clothes and other essentials, according to Ashley Pushkarewicz, emergency services director at the New Hampshire Gateway Chapter of the American Red Cross.
That help has been vital to the Medinas.
"Thank God this happened here, in this country, and not in my country," Medina said. "You'd not get help in my country. The Red Cross did so many things for us, for everybody.
"I'm very, very appreciative of what they do for us."