Vets fight tough times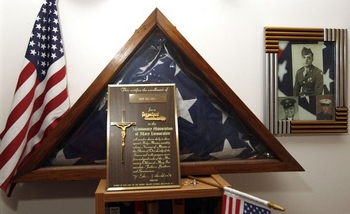 NASHUA – Ron Gelinas sees a silver lining of sorts behind the black cloud of the recession.
"Actually, it's a public awareness service," said Gelinas, who not long ago was an unemployed, homeless veteran.
Cynthia Andreola, of Harbor Homes, couldn't agree more: The recession is a wake-up call that hard times can befall anyone, she said.
With having to scramble to find shelter, food and to get resources, often for mental illness and substance abuse, "it's exhausting to be homeless," Gelinas said.
Among the thousands of Granite Staters jobless around the holidays, many are U.S. veterans.
Some, like Gelinas, live in a transitional housing apartment for homeless veterans. Gelinas now has a job with Harbor Homes, helping other unemployed vets find work.
The length of a veteran's stay at transitional facilities is capped at two years. Part of the requirement is that the veterans must work or be actively seeking employment, be serving as a volunteer or pursuing their education.
Nashua has two facilities for homeless veterans. One is for single men at 440 Amherst St., where 16 veterans now live. The other is Buckingham Place on Spring Street, which has 20 apartments for men and women and veterans with families.
At the end of their stay, the program helps veterans find permanent housing. Gelinas, for example, will soon move into a condominium that Harbor Homes helped him find.
"We try to get out as quickly as we can to make room for the next guy and girl," Gelinas said.
Currently, there are 55 honorably discharged homeless veterans on the waiting list for housing in Nashua.
Harbor Homes recently announced that plans are in the works for the city to build a third site. Approximately $3 million in federal money has been committed to the project, which Harbor Homes officials hope will be completed in 2009 and operational by 2010.
While city housing for veterans is expanding, officials worry that the outlook for jobs may remain bleak well into next year.
Gene, 48, a U.S. Navy veteran who was stationed in Italy during the first Gulf War, lives at Buckingham Place. Gene, who asked that his full name not be used in this story, now faces the prospect of beginning his job search.
He hasn't seen the impact of the recession yet because he's just starting to look for work.
Recently discharged from the Veterans Administration hospital, where he was treated for substance abuse, Gene said he isn't particular about the type of job he lands.
"I'm really not very picky," he said. "I've done a lot of building maintenance and construction work."
Of course, veterans who aren't struggling with homelessness are among the workers who lost their jobs as businesses have folded or downsized in the current recession.
Aaron Arnold stood outside the New Hampshire Employment Security office recently, after meeting with a staff member who works with veterans. New Hampshire Employment Security is a federally funded state agency with offices across the state. The agency operates a free employment service, pays unemployment compensation and keeps labor market statistics.
Arnold, 60, lost his job as an electronics technician when the company he worked for downsized.
A resident of Pepperell, Mass., Arnold said being a veteran helps when looking for a job because many employers look favorably on candidates who served in the armed services.