Veterans honored at reception in Merrimack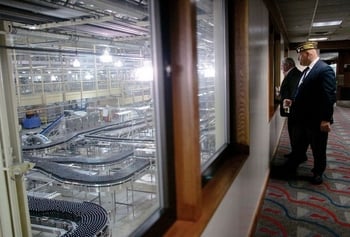 MERRIMACK – William R. Lefabvre Sr. remembers looking to the sky that day.
He, a chief petty officer in the Navy, and everyone else on the USS West Virginia were expecting a flight of B-17 bombers to fly above their waters in Pearl Harbor, Hawaii.
"We saw a nice formation of planes," Lefabvre said. "Then all hell broke loose."
On Dec. 7, 1941, Japanese bombers laid waste to the harbor, killing 2,300 people and injuring hundreds more. The act effectively drew the United States into World War II.
Lefabvre, of Merrimack, is now 89. He has told his story many times as the leader of the state's chapter of Pearl Harbor survivors and did so again Thursday at a "Pearl Harbor Remembrance Reception."
Sunday will mark the 67th anniversary of the attack.
The event, held at Anheuser-Busch in Merrimack, was sponsored by the Granite State Chapter of the Association of the United States Army.
The organization supports active and retired soldiers and their families and advocates on their behalf.
Each year for about the last 10, the organization has invited members of the military to gather and remember Dec. 7, 1941. This time, about 60 attended, and they were invited to ask questions of Lefabvre; Dr. Henry Lustig, a former Army medic who now lives in Newton, Mass.; and Sgt. 1st Class Bernie Hillard, of Manchester, who served 18 months in Iraq from 2004-05.
Lefabvre shared how the explosion of the USS Arizona blew him off his ship.
"I landed in the drink . . . and it was a turning point for me," Lefabvre said. "I realized: You never ever want to be too sure of yourself. And the country should never be too sure of itself."
Lefabvre treaded water until he was picked up by a rescue boat.
"The first thing I thought was, 'We've got to get rid of this real quick because they'll hit the main United States if we don't stop them,' " he recalled.
" 'Don't get terrified. Don't lose your head.' "
Lefabvre eventually ended up on the USS San Francisco, which was docked in a channel, protected, and therefore missed by Japanese bombers.
He declined to give too many more details in remembrance of the men who died that day.
Lustig, 86, fought in Africa and then in Italy during World War II. He recalled the frustrations of combat and changes in leadership.
"We lost so many men," he said. "It was unnecessary."
Lustig told a story about the Allied advance in Rome. He and another were eventually invited inside by Pope Pius VI.
Lustig's friend pushed him ahead, where the pope waited with his hand extended.
"I'm a young kid, so I shook it," Lustig said, pausing as the audience realized his mistake. (Typically, it's protocol to kiss a pope's hand.)
"I still have nightmares," he added with a grin.
Eventually, Lustig said, the pope offered him a blessing, even though Lustig is Jewish.
"A combat soldier will always take a blessing," Lustig said quietly. "He blessed me in Hebrew."
Hillard, who joined the Army on the 45th anniversary of the bombing, was honored as recruiter of the year for the New Hampshire Army National Guard. He recruited 37 soldiers in 2007 and 39 this year.
His commanding officer said Hillard's efforts helped the New Hampshire Army National Guard reach full strength for the first time since the draft.