Veteran's free health care comes with hefty price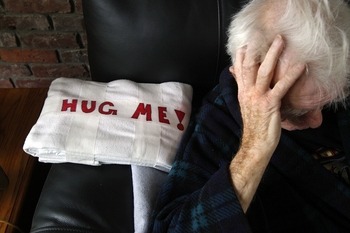 Two large zip-top plastic bags holding 14 bottles of pills sit on John and Carol Haley's kitchen counter. One of them, to the right of the sink, holds pills for the morning. On the left, sit the evening doses. All of them are for John Haley.
Like millions of Americans, the Haleys struggle to pay for health care. It should be a little easier for the Haleys since the Veterans Administration pays 100 percent of John's care. But that happens only so long as Carol Haley makes so little money she cannot afford her own.
Carol Haley learned this year she cannot work to pay for her own cholesterol and blood pressure medications without endangering her husband's coverage through the VA. But she learned the hard way.
Carol Haley did work last year as a part-time paraprofessional in the Nashua School District. Now the VA Boston Healthcare System is threatening to garnish her husband's Social Security check to recoup almost $1,000 the VA says it should not have paid for in 2008."I think it's a terrible thing," Carol Haley said. "It's not right. He was in the service. He's earned this."
She had to quit work and sometimes cannot afford her prescriptions. Instead, she skips entire months of her prescriptions because her husband's medications are more critical.
She is not alone. Earlier this year the Kaiser Family Foundation released a study that found that more than half of Americans try to save money by skimping on health care.
About 53 percent of respondents said they cut back on health-care costs by not filling prescriptions, skipping dental care, or relying on home remedies rather than visiting a doctor, according to the study. Another 20 percent reported serious financial difficulties due to medical bills, according to the study.
Southern New Hampshire Medical Center's associate vice president for medical affairs, Dr. Corin DeChirico, said it is often preventive measures that people skip to save money.
"People just stop taking their meds. They just can't afford their meds," DeChirico said.
Dilemma
John Haley, 79, was honorably discharged from the Army 39 years ago following two years of active duty, including time in Korea, and six years in the reserves.
Since then, his VA benefits have paid for 100 percent of his health care, Carol Haley said – and in recent years, that has been extensive.
John Haley had a stroke eight years ago and suffers from dementia, diabetes, almost-failing kidneys and deteriorating vision, Carol Haley said. Two months ago, doctors discovered a 2-1/2-inch tumor in his stomach, which was removed, along with half of his stomach, in early July.
At the end of 2007, a doctor prescribed medications to help control Carol Haley's cholesterol and blood pressure. Since the couple gets less than $2,000 a month from Social Security, she went back to work part time as a paraprofessional, a job she did part time for 20 years before retiring in 2001.
About six months ago, the VA started sending bills for $873 – the portion of John Haley's 2008 health care the VA will not pay because Carol Haley's job put the couple in a different financial bracket, and that provides less than 100 percent coverage, Carol Haley said.
The part-time job paid $157 a week, she said, and her prescriptions cost almost $140 a month. She was told to apply for hardship, but when she did, she was declined because she was making too much money.
Little wiggle room
Haley's assessment is on the money, but unfortunately for her, there is not a lot of wiggle room in the VA benefits system, according to VA Boston Healthcare System spokeswoman Diane Keefe.
"The VA is income-based," Keefe said. "When things like that happen, it's upsetting. The guidelines, they're legislated. They're not made up."
The VA determines the extent of the coverage it provides on a complicated matrix of conditions, called priorities, which include income, level of disability and service record.
Catch 22s like the Haleys' are not exactly common, Keefe said, but they aren't unheard of either.
"It's going to happen. It's income-based," she said.
The VA does have an appeal process, Keefe said, and offers payment plans in some cases.
"Sometimes it can be resolved and sometimes it just can't," she said.
So far, Carol Haley has refused to pay the $873 the VA wants.
"Number one, I don't think I should. Number two, I don't have the money," she said. "I normally wouldn't do something like this, but I think it's rotten. It just isn't right. I'm 74, and I'm working for pills. I shouldn't have to give it to the VA."