Vehicle slams into downtown bar after closing, damages wall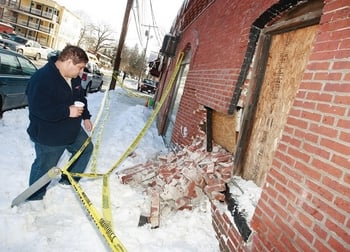 NASHUA – Closing time came with a bang at a downtown bar Thursday.
A vehicle slammed into Cattleman's early Thursday morning, about a half-hour after the bar had closed, wrecking a wall and temporarily shuttering the business.
At about 1:30 a.m., a vehicle believed to be a van crashed into the exterior wall of Cattleman's on Canal Street and took off, Nashua police Lt. Bruce Hansen said. The white van was last seen driving south on Main Street, and police spent Thursday trying to locate it and the owner, he said.
Two bartenders and a bouncer were still inside the building when the vehicle struck, according to Bernie Del Llano, a disc jockey who had left Cattleman's about 10 minutes before the crash.
The bar had been busy that night, but all patrons had left by the time the crash occurred, he said.
The remaining employees were unharmed but unable to get a look at the vehicle, Del Llano said. Someone from outside saw the vehicle, he said.
Police are unsure why the vehicle hit the building and what direction it came from, Hansen said. But by all appearances, the vehicle would have had to travel down Orange Street, which faces the building, for it to have such an impact.
Yellow tape surrounded the collision site. Inside, more yellow tape closed off the portion of the dance floor near the crumpled wall.
Bricks, a display case, wires and other damaged objects lay on the floor. Part of the wall hung down.
The city inspector was expected to review damages Thursday and determine the condition of the building, Hansen said.
Signs on the doors of the bar and the adjoining Cattleman's Roast Beef restaurant said "closed for now."
Del Llano's DJ table was set close to the wall that was struck. If he had been standing there, he would have been hurt, he said.
"I'm very, very lucky," he said.