Vandals trash Girls Inc. in city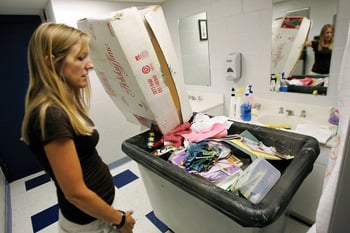 NASHUA – The storage room at Girls Inc. looked like a modern art project gone awry, with green and black paint speckling the floors and ceiling and various items strewn about.
The colorful mess was actually the work of vandals who had broken into the Burke Street center presumably sometime Tuesday night – kicking out a window air-conditioning unit and crawling into the building.
Girls Inc.'s maintenance director realized what had happened around 8 a.m. Wednesday morning and immediately called police, regional director Nicole Power said later that afternoon.
The vandals got into the center's storage room and wreaked havoc – throwing paint, supplies and food around the room. Assistant director Pam Caetano held up a single jug of paint in the supply room and said it was all they had left to last them for the rest of the year.
Most of what was destroyed, she said, was arts and crafts materials, decorations, and gym equipment. A large trash bin brimmed with ruined goods that had to be thrown away.
"It seems like they're just vandalizing," Power said, "but today was devastating, walking in and seeing all the supplies."
The center was targeted in a similar incident almost three weeks ago, when vandals got into the center and covered the floor of the computer room with paint and glitter, Power said. They also knocked over computers – although none were damaged or stolen – clogged and painted toilets, broke into the kitchen and feasted on what Power called an "ice cream sundae party."
Power said the first incident did not cause as much damage as this most recent one – estimating the damage at about $150 the first time – but said that it was time consuming for the maintenance director to clean it all up.
Power estimated that about $1,000 in damage had been done this time, between the supplies that were destroyed and the cost of cleaning up the mess. Because Girls Inc. is a nonprofit organization, she said, it will be difficult for the center to replace everything on its own.
"I'm hopeful that people will want to help the girls out and make the burden a little less," she said.
HOW TO HELP
It's hard to estimate the true cost because the supplies are the center's main way of keeping its many members occupied and providing them with the tools they need to be creative.
The center has fallen victim to other incidents in previous summers, Power explained, including having the glass shot out of the doors and having stink bombs thrown into the building. She thinks that the two most recent incidents were perpetrated by the same person or people due to their similar nature, but she can't be sure, she said.
In any case, she said she's nervous that if the vandals come back, more and potentially worse damage could be done – and they might even resort to theft from the center.
Setting the solitary jug of paint back down on a shelf and looking around the disheveled room, Caetano sighed and expressed disappointment that the center had lost so much. They may seem like little things, she said, but it all adds up.
"For kids to come in our building and take (our supplies), it's a disgrace . . . so hopefully they don't come back," Caetano said. "Hopefully this is it."