UNH student from Merrimack chosen to attend inaugural events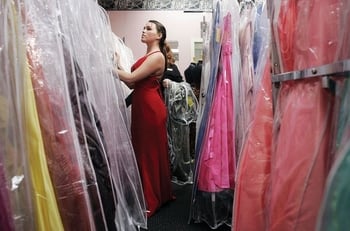 Erin Rothhaus swept through the rainbow rows of gowns, scanning the sparkle and flash.
With a critical eye and remarkable speed, she selected a bright crop and flew behind the dressing room curtain.
"Waited until the last minute, of course, to get the dress," she said with a grin.
For the 22-year-old Merrimack resident, "the dress" is not the dress, as in, a white frock she'd wear down a church aisle. This dress, rather, would be for the most formal event in her life so far: an inaugural ball in Washington, D.C.
Last year, an honor society to which Rothhaus belongs at the University of New Hampshire nominated her for an opportunity to attend the inauguration and a series of related events.
Rothhaus accepted the chance and the fundraising requirements that went along with it, even though at the time, she had no idea who would be sworn in on the Capitol steps on Tuesday.
"It's exciting regardless of whether you agree with the president-elect's policies and whatnot," said Rothhaus' dad, Finlay Rothhaus, who accompanied his daughter to the shop. "It's a historical moment."
Erin Rothhaus, now a graduate student in speech pathology, sought donations throughout the summer and served as an election assistant in Merrimack on Nov. 4. Over the break, she walked dogs in Boston to help raise money for the trip.
By Wednesday, time was running down before her Friday departure, so she arrived in a whirlwind at Marry & Tux in Nashua, the same place her dad got his wedding tuxedo 24 years earlier.
Her mission: find something simple and elegant – not that those adjectives describe her typical style.
"My big thing is I like pattern and sparkle," Rothhaus said. "If I could do that, I totally would."
The University Presidential Inaugural Conference, under whose auspices Rothhaus falls, provided strict dress code requirements for the ball, which will be held at the Smithsonian National Air and Space Museum and Hirshhorn Museum and Sculpture Garden.
>>INAUGURATION INFORMATION<< Gowns have to be formal and not too revealing, according to the rules. Also, no trains - not just because Rotthaus might step on it, but because the 5,000 or so other ball attendants might, too. Her first attempt was a fire engine red, floor-length chiffon gown with a smattering of sparkly rhinestone accents. Then, in between rejecting a canary yellow number and considering a shiny sapphire blue dress, Rothhaus mentioned her nerves. She doesn't know anyone else who's going. There will be huge crowds. It will be her first trip to the nation's capital. "Right now, I'm kind of going in unprepared, but I'm excited," she said. "I'm expecting to have an unbelievable time. I think I'll be blown away by the whole experience." As for the ball: There are 10 "official" balls planned, organized by a special committee. In addition, there many other "non-official" balls, including the one Rothhaus will attend. An unofficial ball means Obama won't be stopping by. Still, Rothhaus said, it will be something to remember. She plans to pick up souvenirs and bring them home to her self-described "political junkie" of a dad, who is a town councilor, and promised her mom, Campbell High School Assistant Principal Laurie Rothhaus, that she'd tell students about her trip. Finally, after about 45 minutes, Rothhaus and everyone in the room agreed on a winning dress. "I think it's perfect," Laurie Rothhaus said, admiring the first red gown on her daughter for a second time. Erin Rothhaus beamed. "Yeah!" she said, joking, "When Michelle Obama shows up in red, I'll say, 'Hey, what's up? We could be sisters.' "