Unfinished 3-lot subdivision causes heartache for homeowners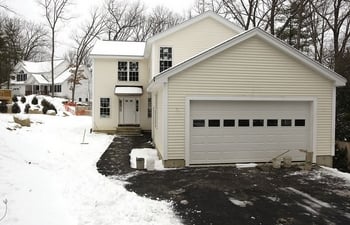 NASHUA – It looks like another winter of discontent for residents of an upscale North End neighborhood.
For Judy and John Roquet, of 23 W. Adelaide Ave., and their neighbors, the ordeal began three years ago when the Planning Board approved a three-lot subdivision on a one-acre parcel next door to the Roquets.
The land at 25 W. Adelaide Ave. was owned by the Theresa J. Buckley Revocable Trust.
The Buckley family sold their home and then decided to carve up the land around it into three small parcels and sell it to a developer. That developer was Tony Camacho.
Almost immediately, things went terribly wrong. Camacho cut down mature birch, maple and oak trees that had graced the property for years, leaving branches, huge piles of dirt, boulders and other debris strewn about.
Then, without finishing a single home, Camacho disappeared, leaving an unfinished project and a string of creditors behind him. He is thought to be somewhere in Connecticut, where that state's attorney general is reportedly pursuing him, according to Gerald Prunier, a lawyer for the Buckley family. Prunier was instrumental in persuading the planning board to approve the project.
Since Camacho disappeared, things have improved somewhat in the neighborhood.
Two homes have been finished and sold. One home was finished by Marcos Baczyski, who bought one of the parcels and took it upon himself to get the house built. The second home, which was half-done when Camacho vanished, was completed by K&B homes, of Pelham, said project engineer Richard Maynard. Driveways have been put in, and a few small coniferous trees have been planted.
But at the rear of the new homes sits a small, open foundation where apparently a third home will be stuffed in. Maynard said someday a home is likely to sit atop the foundation but it's unclear when that will happen.
"All I can say right now is that with the state of the economy, it's going to take time," said Maynard, who also told the planning board the project was sound.
Prunier added, "This is an unfortunate situation where a lot of people got bilked out of a lot of money by the builder."
Statements such as these do nothing to assuage the Roquets or their neighbors. As first reported by The Telegraph last spring, they feel betrayed by Camacho, Prunier, Maynard and city officials. They say the natural beauty of the neighborhood has been destroyed forever, and their homes have been devalued.
Judy Roquet recalled how George Buckley, Theresa Buckley's deceased husband, assured her years ago that the trees that surrounded his property would be preserved in perpetuity.
"It was very pretty here, but it's all gone now," she said. "This guy took the money and ran and now we're going into our third winter of dealing with all of this. It's just been a nightmare."
The Roquets and their neighbors, such as George and Kyung Smith and Robert Kruger, they had pooled their money and hired a lawyer to fight the project before the planning board.
"I think it was a big mistake to divide up the property initially," Kruger said. "We should have hired legal representation before the neighborhood was disrupted."
Kruger and the Smiths all contend that city officials don't care about the neighborhood, largely because it is somewhat out of the way and doesn't attract many passersby, like the old mansions on Concord Street do.
"I want the city to come see what's happened here and say, 'We really botched this up.' The trees have all been cut, and in the summer, you can't even open the windows because of all the dirt flying around. This place is just a mess," said Kyung Smith.
Planning Director Roger Houston takes issue with the contention that city officials don't care about the neighborhood and its plight.
"I think we care about everybody in the city," Houston said. "But in this case we've been somewhat constrained in terms of what we can do because of the way the developer left things."
Still, no one in the neighborhood has much faith in the city or its officials, but Kruger thinks there may be one way to make the best out of a bad situation.
He said he'd like to see the neighbors get together and purchase the parcel where the empty foundation now sits and turn it into a small park of some sort.
"At least we could make the property pretty again," Kruger said.