UMass Lowell students move into Nashua hotel for semester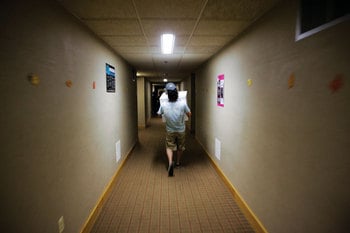 NASHUA – For Jordan Sargent, spending at least half his freshman year of college in a hotel room is shaping up to be a good thing.
"I'm pretty pumped about it. It's nice. Fresh linen every week," the freshman from Cohasset, Mass., said.
Kevin Rogers, father of Sargent's roommate, D.J. Seco, is taking a wait-and-see approach.
"Our first impression is, we're pleased," Rogers said.
But he's reserving judgment to see how things develop over the next few weeks.
Among Rogers' worries for his son: How students will get to the University of Massachusetts Lowell campus 9-1/2 miles away on nights and weekends.
The Radisson Nashua Hotel resembled a college dormitory Monday after afternoon, because that's just what it had become, with 240 UMass Lowell undergraduate students plus parents and other family members hauling in suitcases, guitars, laptops and TV sets.
About a third of the students housed at the hotel are incoming freshmen. This will be the home for all 240 students at least through Dec. 23, the end of the first semester.
Students started to arrive around noon, and the day went about as smoothly as any college move-in possibly could, especially for a hotel converted into a dorm.
Settling into his room on the third floor, Seco said there were pros and cons to spending his first college semester in a hotel.
"This," he said, motioning to the tidy, spacious room, "being a pro. The con is the distance," said the freshman from Royalston, Mass.
The university plans on running frequent shuttles between the hotel and campus during the daytime but hasn't yet worked out an evening schedule.
Across the hall, freshmen Jillian Rowley, of Malden, Mass., and Rachael Megnia, of Somerville, Mass., were settling into their room.
When told that she would live in a nice hotel, Megnia said it felt like Christmas.
But Jillian's father, Bob Rowley, worried that male and female students were being housed on the same floor. While hotels obviously aren't segregated by gender, many college dorms house men and women on separate floors, he noted.
He felt a little reassured when he learned that four resident assistants and one resident manager will be living in the hotel to watch over the students.
UMass Lowell officials contracted with the Radisson because of a severe housing shortage created when the number of incoming freshmen and transfers were significantly higher than normal.
Long-term, the university hopes to build additional dormitories and acquire more student housing. But those plans suffered a setback last week. UMass Lowell had been planning the construction of a 400-student dormitory but backed out of the $20-million project after the Massachusetts attorney general's office raised concerns about the bidding process.
As a steady stream of students poured into the Radisson lobby, Larry Siegel, the dean of students at UMass Lowell, powwowed with university staff members on afternoon plans for a building tour and orientation program for parents.
"It's going better than I had feared," Siegel said.
University staff members were on hand to sign in students and answer questions. Hotel staff also helped move students into the dorm, even providing luggage carts, a move-in-day staple on campuses across the nation.
The carts were the hotel's idea, Siegel said. He praised the hotel staff for its help and cooperation.
"They have gone out of their way to think about all of the things that students will need," Siegel said.
The Radisson converted first-floor conference rooms to student lounges with flat-screen televisions, and smaller rooms are being transformed into quiet study areas.
Steve Lambert, the hotel general manager, said the hotel and university were able to work out a contract that benefited both parties. The hotel did give the university a reduced rate, he said.
"We gave a little bit to accommodate the university. In return, we gained a longer rate of stay. We're in the business to fill hotel rooms," Lambert said.
UMass Lowell officials said the hotel would charge the university its normal rate for room and board, which is $3,850.50 a semester. As part of that fee, the hotel will provide two meals a day seven days a week, and students will also be credited $140 for on-campus dining.
The students will fill about a third of the hotel's rooms and will be separated from other guests by at least a wing on the first and second floors, Siegel said. The third floor will house only students, Siegel said. Because of the slow economy, there are still plenty of rooms available, Lambert said.
"I still have 200 rooms to fill," he said.
Business at hotels throughout Greater Nashua usually picks up for the Columbus Day soccer tournament. Lambert said the contract with UMass Lowell was done early enough so that he'll know how many rooms the Radisson will have available well in advance of the tournament.
As for the university, where the arrangement could cost more is running transportation between the hotel and campus in the evening and on weekends, Siegel said.
For now, the last shuttle would leave campus for the Radisson at 6 p.m.
After students settle in, the university will look at the nuances of work schedules and such to determine what additional shuttle runs might be needed, Siegel said.
Rachael Megnia's mother, Maureen Megnia, worried about how her daughter would get back from campus if she got a night job. Rachael, trying to take advantage of her new digs, said she would see if the hotel is hiring.
Siegel said that 100 percent of the university's students who need university housing will get it, which was all that mattered to D.J. Seco's mother, Carol Rogers.
She admitted that she "kind of freaked" when D.J. was told he might not have housing at all for this semester.