UltraVision system named Product of Year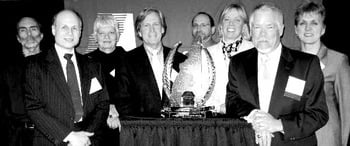 An ultra-wideband motion detector for security applications developed by Auburn-based UltraVision Security Systems Inc. has won the New Hampshire High Tech Council's Product of the Year award.
UltraVision beat three other finalists for the award — Ellacoya Networks Inc. of Merrimack, Global Relief Technologies LLC of Portsmouth, and Hypertherm Inc. of Hanover.
UltraVision's UltraSensor is a motion detector that uses ultra-wideband (UWB) technology so it can be buried underground, in walls or above ceilings. The company says it detects velocity and distance, and even the mass, of the intruder, presumably so it won't be triggered by cats.
Product of the Year judges were Dick Morley, an investor in various companies and inventor of the Programmable Logic Controller; Bob McCray, an angel investor in more than 35 companies in the region; and Charles Hutchinson, founder of Lebanon-based GlycoFi Inc. and former dean of engineering at Dartmouth College.