UBS unit blamed for N.H. student loan crisis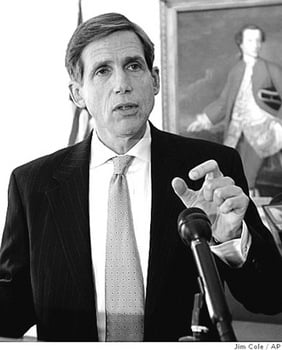 The state Bureau of Securities Regulation has filed a civil complaint against UBS Securities LLC alleging that while the financial services giant was steering bigger clients out of the auction-rate securities market last winter because of signs the market would collapse, it was advising the New Hampshire Higher Education Loan Corp. to stay in.
Mark Connolly, director of the securities bureau, said "it's very clear" that UBS "was managing its way out of this auction-rate market in a way that it was not fully informing their clients about the risks and what consequences there could be to them in this failed market."
According to Jeff Spill, the bureau's deputy director, the agency's investigation "revealed that UBS had knowledge that a market collapse was looming but did not disclose that information to NHHELCO.
The bureau is seeking unspecified fines and restitution and a halt to the alleged misconduct. They said a hearing examiner will be appointed for proceedings that could easily take months.
But with college classes about to start, Connolly said UBS and other big banks should act on their own to shore up the lending capacity of programs such as New Hampshire's. He said student loan issuers and borrowers in other states are in similar jams.
"Their goal should be to figure out how to get student loans out," he said.
UBS Securities denied defrauding anyone, saying in a statement that the company "will vigorously defend ourselves against this complaint as we believe that we worked in the best interests of our investor and issuer clients. This complaint attempts to link a single client interaction with overall market conditions which affected all student loan issuers, and as such we believe there is no basis for these specific allegations."
Earlier this month, the firm's parent company, UBS AG, announced a settlement to help investors who bought auction-rate securities – a settlement in which New Hampshire will share.
Under that deal, UBS will buy back nearly $20 million worth of auction-rate securities from investors, who state and federal regulators say were misled about their safety.
Connolly praised the settlement with investors, but said it did little or nothing to help lenders such as New Hampshire's or the thousands of students who rely on them.
Because of the market collapse, the New Hampshire corporation had to shut down two loan programs in March affecting about 6,500 students.
The lender's president, Rene Drouin, said his company handles 80 to 85 percent of the student loans in the state worth about $250 million annually. Using other banks and credit unions, it has continued handling federal student loans totaling about $90 million.
UBS Securities, UBS' investment banking branch, has been the longtime financial adviser and underwriter to New Hampshire's program.
Student-loan issuers such as New Hampshire's and municipal agencies were major issuers of auction-rate securities, whose rates were reset at frequent auctions. Big banks stopped supporting the auctions as part of the broader credit crisis last winter.
Federal and state regulators have been investigating to determine who was responsible, and other banks, including Citigroup, have agreed to settlements with investors.
Drouin told the New Hampshire Union Leader that 6,000 students in the state are now looking for a source of approximately $70 million in loans.
He said UBS misled his agency by urging it to raise the interest it paid on its securities just months ahead of the market failure. The ultimate cost of those higher rates and broker fees to UBS could run more than $20 million, he said.
"We trusted them. We expected them to do the best thing for us and our clients," Drouin told the newspaper.
Jeff Feingold can be reached at editor@nhbr.com.